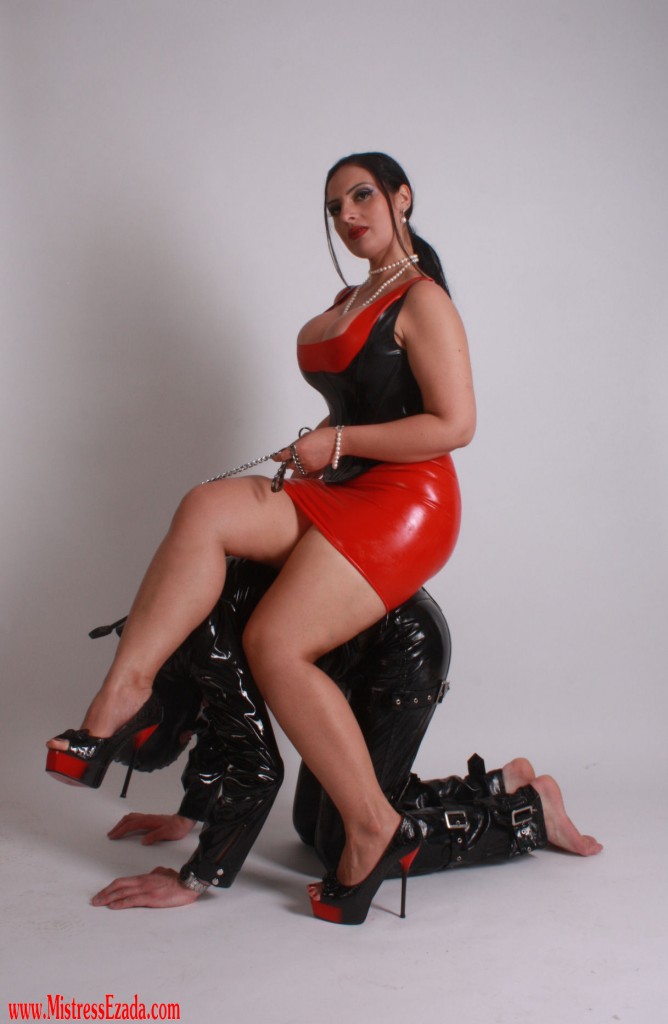 People often ask Me how I did manage to train My slaves so well. Well that is fairly easy. Just treat them as what they really are: That is as dogs of course.  Every serious Domme knows that. Ever seen when a well-trained dog watches his keeper with a loving look of boundless devotion, drooling, panting, his tongue hanging out of his gob? That is where you want to end up with your slave.
Men are so simple and therefore so very much different from the dominant gender. Men need simple rules and commands that they can then follow easily. In fact, deep inside they long and crave for such orders. Short orders that have to be stamped  into their brains so they never again will forget. Do not deviate when giving orders, always give your commands the same way. So when you want him to get on all fours for example use one specific  word or one distinct gesture for that order and never again change that to not confuse him. Think of the drill sergeants at a US Marines training camp and why they behave how they behave. Believe Me, this is the way it works.
What is of utmost importance is your immediate reaction to your slaves actions. He must at once feel and understand whether he behaved wrong or right. Whether he pleased or displeased his Mistress.
If he behaves well and follows you "goody-goody" give him a little reward. Some people say, that it is not necessary to reward a compliant slave. They say, that the slave shall serve his Mistress but never expect anything in return. That sure sounds good. Only problem with that concept based on My long experience: It just does not work unfortunately; apart from only a very few hard boiled findom slaves maybe. Sorry, but this is how it is. Every psychologist and every dog trainer will be in perfect agreement that positive behavior needs to be reinforced by positive feelings earned in return. This is not a matter of needless generosity towards your slave. It is a matter of giving him the right direction.
The reward will reinforce the obedience of the slave because it will make him feel good and he will always want to repeat and reinforce this good feeling. The slave does cherish and worship you so much that seeing and feeling how he has successfully pleased you will be a wonderful experience for him. Doesn't have to be a big deal, patting his head and addressing him "there is My good puppy" with a soft voice will do a tremendous job on him. The important thing is to find his weak spot and then drill yourself into that. Do you understand what I am saying? It is the clear feedback that counts.
Very slowly but steadily increase the demand for a reward. In order to not only maintain but improve his position he will try ever harder to please you. It is best when this happens without him even taking notice. his sub consciousness should do this job for you. In the beginning he will receive his "good puppy" for just getting on all fours upon your command. Then it will be necessary that he also has nicely protruded his little ass, sometime later the reward will require that backside of his to wiggle to and fro …  Steadily develop him, take him ever further, this is so important to keep him alert and responsive.
As there is reward, there also is punishment to be sure. In fact in most cases the punishment will by far outweigh the reward. Your possibilities with that are endless and you will for sure already have developed your own likes and specialties in this important field. So I do not have to go into much detail here. However don´t forget to be consistent and forceful in your reactions. You  will practically always be able to react immediately if you really follow your concept. If you do not have a whip or crop at hand (something that honestly never happens to Me) slap his face, use a hairbrush, a wooden spoon, kick him with your booted foot, whatever. But punish him on the spot. There might be very very rare occasions when you cannot react at once or just don´t feel like it. Then at least tell him that you have noticed his misdemeanor and that you will punish him later for that. So he will understand that he has done wrong and know what to expect (and scary expectations can nicely work on him in the meantime).
Presenting reward and punishment is fairly easy when your slave is around. It is not that easy when he is farer away so that you do not have physical contact. Especially in a long distance relationship. It is more challenging but it works as well. In fact it is quite impressive what you can achieve long distance with a really devoted slave. I for example momentarily have a lot of fun with a foreign slave that has become a real addict to Me. His weak spot is his craving for My attention. Nothing makes him more happy then if I turn to him, nothing throws him into deeper despair than My negligence. Do I make use of that? You bet.
I keep him on a sparse diet. When he has ordered something for Me from My Amazon wish list he will get an e-mail that might consist of just one ore two words as a reward. That is my patting his head from a far. My "good puppy". I know that he then inhales My words like the drowning shipwrecked gasps for air in the stormy sea. When I am really satisfied with him, I might send him one of My video clips as reward. When he writes Me his long mails or sends Me nice pictures or some good music and I have found fun and entertainment in that, I will tease him and announce a long answer that of course will never come. This is just to keep him on his toes, attentive, hopeful, alert. I know that he will then check his mail account incessantly over days hoping to once find this so very much desired answer from Me. But of course he won´t. Why should I waste My precious time writing long mails to a slave? But then again, when I can feel that his hope starts to faint, when he gets weaker, just before his desperation becomes overwhelming, I will lift him up again. By sending him just a couple of My miracle words that I know will set him alight with a burning fire of passion and devotion.
See, it works so simple. Dogs.