Read part 4 of this story here.
More Whipping Training Although Mistress Ezada loves whipping – she absolutely adores Single tail whipping. Particularly loves whipping a slave whilst in mental bondage. This basically involves a slaves standing to attention with hands on his head, and must remain motionless – or as still as he can be whilst he is being whipped.
My mistress had informed me that today I would be tested on Mental Bondage. I was going to whipped on my chest, and then full body whipping. Now referring to Her notes Mistress Ezada in your 3 day training assessment you only managed to achieve 50 lashes onto your chest.
My goal and therefore your target initially at least is to be able to take 150. It may take a while but that is the target. Ok stand over there. Right I am going to give you 25 lashes to your chest, a couple of minutes break then another 25, then a break then another 25. At the end of each set of 25 you are immediately to drop to the floor, lie on your back & I will sit on your face for exactly 2 minutes. You will also just count the numbers nothing else.
Just having the fact that Mistress Ezada would soon be sitting on my face gave me some self-confidence. I stood firm and took each lash like a good Masochist, but of course I realized that my Mistress wanted me to become an excellent Masochist.
As soon as the 25th lash landed & I'd said the number I was flat on my back on the floor. Mistress Ezada sat on my face & set a 2 minute timer on Her phone. It was over very quickly, as Mistress Ezada got to Her feet – I heard the now familiar, "MENTAL BONDAGE". I was up in a flash, and stood like a statue. Although the Queening had been brief it had given me a boost of strength. Bizarrely I seemed to take the 2nd lot of 25 lashes somewhat easier. Again I fell to the floor & lay flat on my back.
So for a third time, "MENTAL BONDAGE". Now whether Mistress was now whipping me harder or not, the final set was more difficult for me to sustain, thankfully however I managed.
"Right slave did you enjoy the face-sitting? Oh yes Mistress. So you had 6 minutes in total? Now here's a decision for you. How would you like 6 in one go? Of course there is a price to pay! Now you know how much Your Mistress loves doing a certain something. So is there something you want to ask me?
I wanted it more than anything – please Mistress I beg You to whip me some more please? How many 069 Mistress Ezada quizzed. I was already hurting so I said, "An extra 25 plea se Mistress".
"Now I thought you like to please Me slave p? That would only be approximately 4 lashes per minute of Face-sitting. You should think in terms of an exchange rate. So higher the rate – the higher you will value My Queening you. Yes Mistress, sorry Mistress, please, please I beg You to give me another 50 lashes.
Good decision 069 – this time you will receive 50 lashes but in one go. Also I want you to count backwards but just the numbers – understood 069? Yes Mistress…….First lash, Fifty, Forty nine………………………….three, two, one.
Excellent slave, you are progressing – however next time we move up to 100 lashes, from 100 you will count backwards in your head in silence, then out loud from 49.
Day 15 Introduction to my Incarceration cell & the start of daily whipping. Oh my God, reality really hit home today. Today I was introduced to my new sleeping quarters; well actually a more accurate description is 'sleeping, feeding & toilet quarters'.

I was in the Waiting position when I heard Mistress Ezada approach, clicking her fingers once announced "FOLLOW Me". I crawled as quickly as possible to keep fairly close behind Mistress Ezada's heels of Her beautiful black boots. We approached a door which was opened – "Stand to walk down these steps; I don't want to kill you off, at least not just yet".
I followed Mistress Ezada down a fairly short flight of steps – we were now deep below ground level – with obviously no natural light from windows. Now although there were electric lights there were many candles giving light.
"So 069 this is where you are going to stay for the next 15 days – well at least it may however be for longer. That will depend upon your progress".
I could see opposite from where I stood there were 2 sturdy dark wooden doors, I also quickly noticed that there seemed to be a hinged section at the bottom, and also what seemed to be a spy hole three quarters of the way up the door.
Mistress Ezada then selected a large key from a big bunch and opened the door to the left of the two. I immediately noticed that it was quite small inside no more than 6' in length, and not very wide. Noticeably was the fact that the ceiling was quite low – definitely not high enough to stand up in. I looked down at the floor & could see it was covered in straw.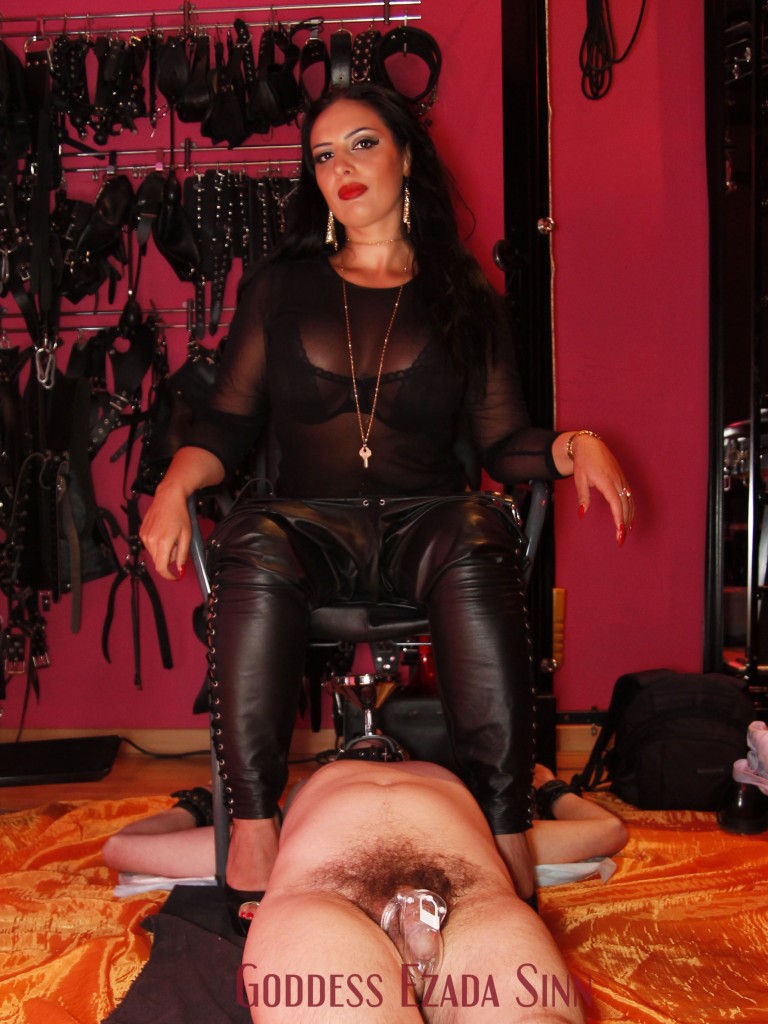 Mistress Ezada must have noticed look of horror on my face and spoke as if to reassure me. "This is necessary 069 as part of your training. You know you have to suffer for Me, and suffer greatly in order to please Me. You must not forget that you have been specifically selected to become one of My collared slaves. So remember this well slave, it is an honour for you to be here at all".
Speak slave don't you agree? "Yes Mistress, of course Mistress it is indeed an honour". Mistress Ezada continued to drive home Her point, "now as you will be in here more or less 24/7 – you will come to look forward to being brought out for your daily whipping".
I took in further details of the cell, & soon realised the reason for the hinged section at the bottom of the door. There was a kind of a fairly shallow porcelain trough that was sunk into the floor. Mistress Ezada noticed me looking – "Oh yes that's where you'll eat any food you are lucky enough to be given".
"Of course I realise that you will need to also drink. Mistress then pointed to something that somehow I had missed. It was a plastic bird water-feeding bottle. It was attached to wall – it was upside down. Having seen one before however I knew how they worked. It had a metal tube with a valve & when sucked on liquid came out but then stopped. It will be replenished every day. Of course it won't contain water – well not water as you know it. It will be My delicious, and wonderful Golden Nectar.
This naturally made me think where would I go to the toilet. It was if My Mistress read my mind. "Oh yes – you will use that bucket at the end of the cell for your toilet needs. You will be allowed to empty it once a day.
I then looked up slightly & saw something familiar – it was another 'Shoulder Yoke' – suspended on two chains the same as in the main dungeon. "Oh yes isn't it lovely. It is my Yoke or perhaps I should say yours! Let's test it out. Get into the cell – go in backwards on your knees, and put your head directly over the tray. Lie flat on the floor put your arms to your sides".
Mistress then stepped slightly inside and fastened each of my wrist cuffs to one of many securing points in the cell. I therefore couldn't move anywhere.
So for a 2nd time I heard my Mistress lower a chain. I soon felt the Yoke across my neck and shoulders. There were similar hook-bolts that Mistress Ezada connected to strategically placed ringbolts set into the floor at each side of the tray. Although I already couldn't move much – now however I was completely immobilised. My head was now more or less locked in one place.
"Ok as I naturally will not be seeing you feed I want a little demonstration". Mistress Ezada went over to the opposite wall & pressed a button. Within a few minutes Her personal assistant entered the basement dungeon. I only heard Mistress Ezada thanking him.
Squatting down in front of me Mistress Ezada opened a plastic container – now there's not much in here, but I think you will like it, not that it matters. There's some chocolate gateaux, some banana, some pancake – all prechewed, oh & some coleslaw"! The container was then turned over & its contents fell directly in front of my nose. The Shoulder Yoke did however allow some slight movement to each side, and a little forward.
"Eat it all up slave, and quickly. I haven't got all day". I gobbled it up as quickly as possible. "Mmm not bad", but then when I had more or less finished. Mistress Ezada instructed me to lick it completely clean. "Do not forget this slave – whenever you are fed your tray must always be licked spotlessly clean. Don't think it won't be checked as it will. Right My servant will shortly come & collect you for you to commence your Daily Whipping".
Stay tuned for the last part of this story that will be published next week.