Read part 3 of this story here.
"Hello slave. Did you enjoy your meal last night? Yes Mistress it was lovely, I greatly appreciated you feeding me".
"I am pleased you know your slave positions. I know you will be disappointed but I will not whip you today. We have another 88 days at our disposal. Also you are quite nicely marked already. I want to concentrate on other things. You will however have a different type of whipping later in the week so don't relax.
"I wanted to update you on your first day of Whipping Training. Overall I was quite pleased with your initial progress. It may be a little difficult for you, but I hope you realize that we are only at the very beginning. There is a lot more pain to come. You do understand this 069". "Yes"? "Yes Mistress".
"So let me give you an idea where you are in my slave categorization during pre-training, and initial training you displayed very good Masochistic tendencies as opposed to being just being submissive. You have therefore been enrolled as a future collared slave Masochist Designate – as opposed to collared slave Submissive designate. For successful graduation you will have to achieve either AM, HM or EHM. To clarify".
AM = Advanced Masochist
HM = Hardened Masochist
EHM = Extremely Hardened Masochist
"For you to understand where you are in the categorization – you are currently IM which means Intermediate Masochist. As an example one of the tests to become AM is to be able to take 200 strokes of dressage whip, whilst secured on the whipping bench but in complete SILENCE! For HM it is 350!
"So I think this gives you a little insight as to the hill you have to climb. Not everyone can meet my exacting standards. To give you an idea I currently have 2 collared slaves at AM status, 1 at HM status, and after 9 months training I have 1 at EHM status".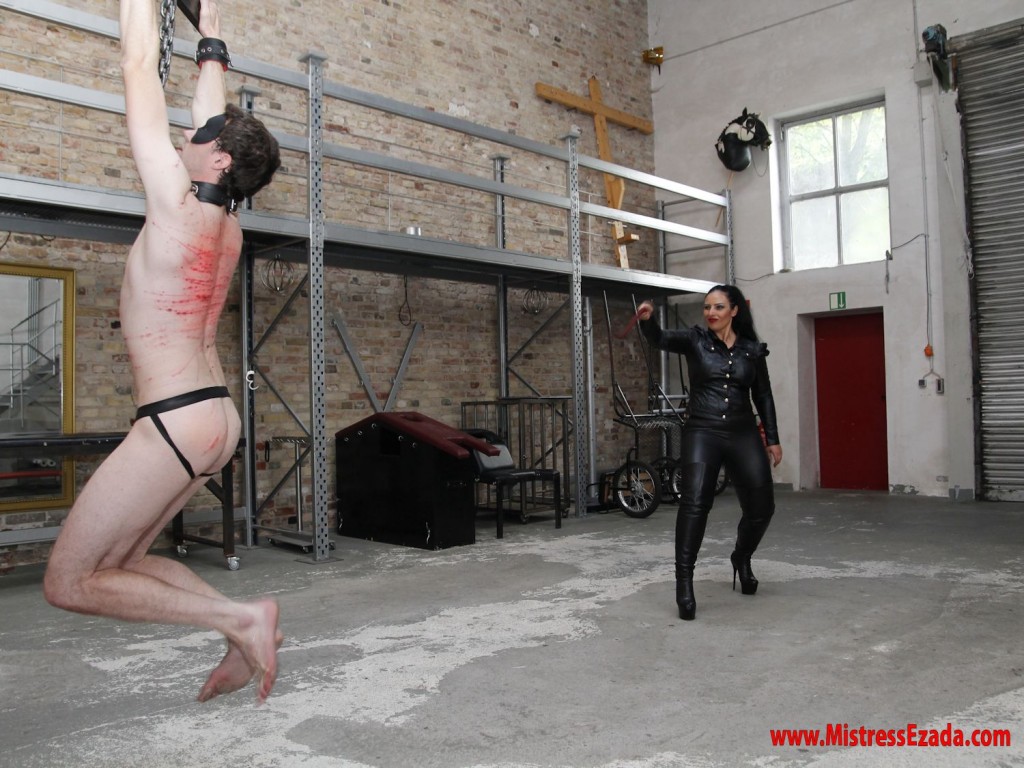 "However what you need to know is that, I already have a 3rd slave almost qualified at AM status. For various reasons he will not be progressing further than that. Once he does within the next month, that category will be full".
"This means you have no alternative but to progress to HM category. That said no slave has to date achieved HM status by wk 13. So what this will mean for you is that your training will be extended by potentially a further 3 months. It will of course mean a big step up, with more severe whippings one a daily basis, more degradation, & more meager rations".
Also whilst on this point, it is worth explaining to you about my pain strength scale as follows. Pain threshold scale (Lower & upper levels) 1-2 Mild 3-4 Intermediate 5-6 Hard 7-8 Severe
"I know you are not at this level yet, but I am confident that in a few weeks you will be able to take a similar whipping without making a sound. In fact even only a few days after Day # 15 when your daily whippings commence, I think you'll be surprised at how much you will be able to take. Basically it is all about pushing your limits, further and further each day, and then extending them again & again etc".
"You see you have to be first of all broken, and then rebuilt as a strong Masochistic slave. But I have a good instinct & I believe you will achieve it".
Mistress Ezada continued, "What are thoughts slave 069?" I gulped – "I'm a little daunted Mistress, as I am only at an Intermediate level". Mistress replied – "Yes but you have made much progress even on your first day of whipping training".
Strap-on & Cock-sucking Training I was blindfolded whilst waiting for Mistress Ezada to arrive. I soon heard some steps getting quite close.
"Now today we will be doing something different. Have you wondered why each time I have gagged you it has been with a penis gag as opposed to any other type of gag"? "No Mistress". "Well slave it is for you to become accustomed to having a penis in your mouth – albeit not a real one for now but as part of your training you will learn how to suck cock really well. The reason for this is because at some point in the future I will require you to suck a real cock. What do you say to that slave"? "I will do anything to please You Mistress". "This would include sucking a real cock? "Yes Mistress". "I like your attitude slave".
"Now further on this aspect – now I don't always allow subs /slaves to ejaculate but sometimes I give permission for a sub /slave to cum. What I need to know is if I instructed a sub that you were sucking to cum in your mouth, what would you do?
A.) Pull away? B.) Allow it to happen but then spit it out? C.) Swallow it immediately or D.) Hold it in your mouth until I said Swallow?
I thought very carefully before answering. I knew for a fact that it wouldn't be A or B, so C or D. I answered D Mistress. "Correctly answered slave".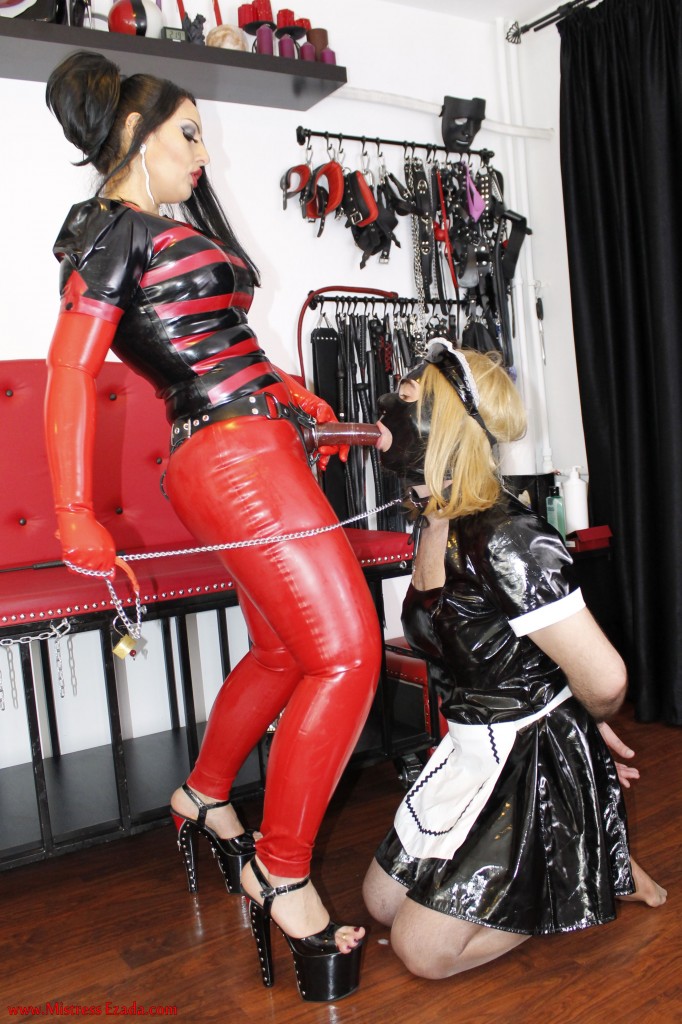 Ok let's start – as I was already on my knees Mistress Ezada I sensed approaching me. Open your mouth slave – which I did. I soon felt a synthetic penis enter my mouth. Lick the head – I complied. Ok now suck. I was made to practise for a very long time. When Mistress Ezada pushed quite hard I kept gagging. Don't worry about that I will train you out of that.
Eventually that's enough, not bad for a first attempt. Now I am going to take you anally! Have you been fucked before slave? "No Mistress – I am an anal virgin".
I was soon strapped in place over the whipping bench, and within moments I was being penetrated in my anus. It hurt quite a bit to begin with – but then got slightly easier. I will fuck you lots more slave whilst you are here.
Next week 5th part of this story will be published.