Read the part 2 of this story.
Following day "So slave p did you enjoy yesterday licking my boots, and even more so my sitting on your face whilst I was wearing my leather jodhpurs"? I replied – Oh yes mistress – it was wonderful. "Well would you like to do that a lot more"? Yes – definitely Mistress. "Ok then, so with that in mind today we start your initial whipping training. I can see you have a quizzical look on your face, so let me explain" Oh & by the way last night's whipping doesn't count – as it was My gift to you".
"The reasons and purpose, of whipping training is to train you to love being whipped. First, a long time ago you told me that your main priority is to please Me, Your Mistress. To put it simply, I get immense pleasure from whipping My slaves, but in fact I will go further than that I love whipping My slaves, so the more Masochistic they are the more I love it. So when Your Mistress is whipping you – I am essentially thanking you".
"But expanding on this theme. What gives me even more pleasure is after you've suffered a prolonged whipping is if you sincerely beg Me to whip you more. You will always please Me if you request this. So do not forget to remember this".
"Secondly is that the more you take being whipped, the more I will allow you to worship my boots, and the more I will Queen you. However the more I Queen you the more I will want to whip you. So therefore the more you want me to Queen you, the more you will want Me to whip you – perfection! Understood slave"?
"Also the good news for you in respect of boot licking – the more whipping you take the dirtier My boots will become with even more mud on them. Of course I do realise that because there is a lot more dirt to be licked, they will be harder & take you a lot longer to clean them.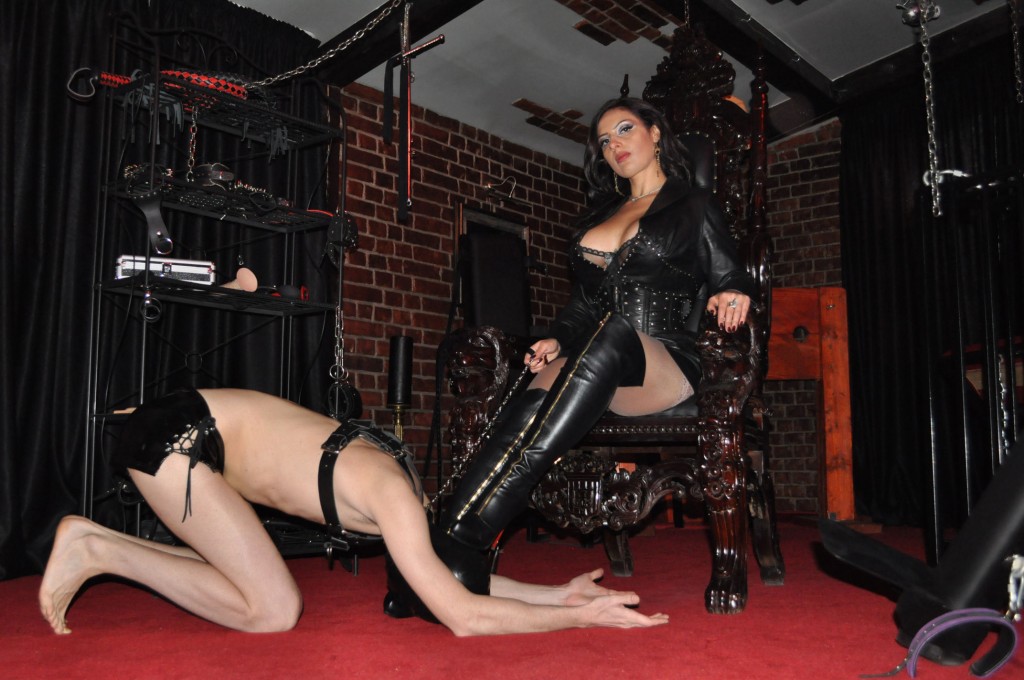 There is however a nice twist here, well for me. If you do a poor job, you will be punished by being whipped, but if the thought encourages you to do a really excellent job, you will also be whipped as a reward"!
"Also as a very special incentive – if after your twice daily whipping quota commences – you sincerely beg Me to whip you more – (and incidentally if you do & I agree it will never be less than an extra 25 lashes*) I may just reward you with a special bread pudding. This is basically lots of dried bread placed into a large shallow bowl that has been marinaded all day with my special champagne. *Over time however this minimum will be gradually increased".
"Ok slave 069 let's get started. First of all I am going to secure you to my fabulous whipping bench. The good news is that although you will be reasonably comfortable – just as well I suppose as you'll be there for quite a while".
"Before I begin, usually when I whip a slave I require him to count each lash. Each stroke – but sometimes I don't require any count, but I do require his silence. So for this initial whipping you are to remain silent, no counting, no crying out. DO YOU UNDERSTAND slave"? Yes Mistress, I replied.
"To begin I am going to start with my dressage whip, I will start fairly mildly to get you warmed up. Twenty five to start. Thankfully I managed to take without saying a word or crying out".
"Very good, now another 25 but this time a little harder. Unfortunately I only managed to get to I think number 20 when I let out a little cry. Mistress Ezada didn't say anything & I thought – foolishly that perhaps She hadn't heard me. I was wrong on that score. You have already disappointed Me slave. What did I tell you at the start? "To be silent Mistress".
"Yes EXACTLY – SILENT". However you cried out at stroke 20! So what do you think I should do? I remained quiet. A resounding slap across my face – twice. Almost in a whisper Mistress Ezada –quizzes me; "Answer me slave". "Probably whip me again Mistress". "Yes exactly. Now how many strokes should I give you slave?" "Ugh 25 Mistress I tentatively answer. Another 2 slaps. "WRONG ANSWER –. HOW MANY slave"? 50 Mistress.
Another 2 slaps "WRONG AGAIN slave". How many slave? I reply with a pleading voice 75 Mistress". CORRECT well done slave.
Now let me explain why 75, the 1st 25 is for crying out, the 2nd 25 for not answering me immediately when I asked you the first question, the 3rd 25 for the 2nd wrong answer. So that's 75 in total.
I got to 30 in complete silence, gritting my teeth & kept thinking to myself I MUST PLEASE MISTRESS EZADA. I heard Mistress Ezada announce 47, 48, 'yes I can do this' 49 but then before She announced 50 – I cried out. My heart sank as I had failed in obeying my Mistress.
Without saying a word Mistress Ezada put the dressage whip to one side. I sensed Her walking a short distance, and returned with something in her hand. Close your eyes & open your mouth wide. Of course I obeyed immediately. I soon realised She had fitted me with a penis gag. "Obviously you can't follow basic instructions. You will now receive those last 25 strokes, and they will be a lot, lot harder than what you've had thus far".
Oh my God, I thought it was painful before, but these lashes were much stronger. I knew at this moment I was only at the beginning of my Whipping Training. Even though it was a lot more painful, and I was gagged I remained silent. I heard Mistress Ezada quietly saying, Mmm better!
"Right slave I am going to leave you for a while, as I'm going to have something to eat, and have a rest. Now when I'm away I want you to think about the mistake you made, and the disrespect you showed Me earlier. When I return we will resume your Whipping Training".
I thought to myself, oh my – resume my whipping training? I thought that might have been it for today! Before leaving however, Mistress Ezada removed my gag.
Anyway after a very long time – if I had to guess least an hour Mistress Ezada returned. With a smile on Her face, Mistress Ezada announced oh "I'm glad you are still here slave"!
"So 069 I hope you have had time to think about your mistake and how you showed disrespect to me? Yes Mistress.
"Explain to me how you disrespected me"? "Because I cried out when You had instructed me to remain silent Mistress". "Exactly. So the next lot of lashes you are going to receive will be punishment lashes. Now how many do you wish to take for this discretion I initially thought to myself to say 25, but then thought better of it, and replied 50 Mistress. "Good answer slave".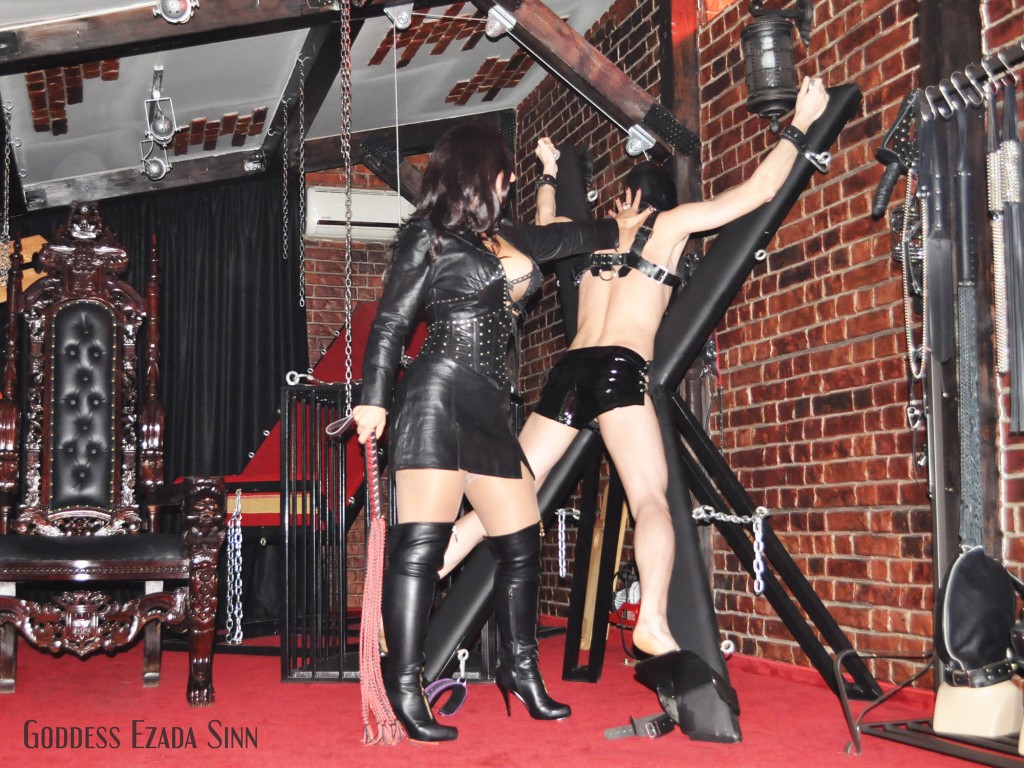 "Now I'm feeling in a generous mood, so I'm going to give you 50 from me as well. So that will 100 in total. Now for these you are to count each stroke lash of my whip. This is important. You must count out each stroke. "ONE MISTRESS. THANK YOU MISTRESS & so on".
"OK slave start counting! Mistress Ezada brought down Her dressage whip with quite a bit of force".
"One Mistress. Thank You Mistress". I immediately realised that these lashes were as hard as the last 25 of my previous whipping. "Thirty Mistress. Thank You Mistress". As I was concentrating so much on keeping count, I think helped me to get through the pain. "Fifty-five Mistress. Thank You Mistress". In a nano second I thought – slave p you can do this!
I shrieked "Eighty-five Mistress. Thank You Mistress". I heard Mistress announce, "your last TEN slave". With tears in my eyes. I somehow managed 98, 99 ONE HUNDRED MISTRESS. THANK YOU MISTRESS.
Good slave you have done well. Now let me ask you again, what does Your Mistress love doing? Whipping slave 069 Mistress – Yes. And what does 069 love? "Being whipped Mistress".
"Sorry I didn't quite hear what you said? Repeat". "I LOVE BEING WHIPPED Mistress". So do you have any requests 069? "Yes, please Mistress, I beg You to please whip me more. Please Mistress. I beg you Mistress".
Now this next question is a little trickier. What strength do you think the lashes should be? Mild, Intermediate, or Hard? I thought carefully before answering. "HARD Mistress". "Yes, I totally agree, you are learning fast"!
Ok slave I won't ask you how many I should give you, but instead I'll give you a choice. So should I give you another 10, 15 or 25 lashes? I cried 25. "You are learning fast slave".
Now count backwards from 25, but just the numbers. 25, 24, 23, 23 ……………..5,4,3,,2,1! I was now sobbing, and repeating. Thank You Mistress. Thank You Mistress.
Mistress Ezada leaned close to the side of my face, and whispered. "That was your first day of your whipping training. I am quite pleased. I will give you a fuller update tomorrow".
After My servant & I have had dinner you will be fed our leftovers. Mistress Ezada then left the room turning off the lights.
I was then left still in bondage, in silence, and the darkness left to contemplate my first day of whipping training. Although I was in pain & my backside felt as if it was on fire, I had a sense of pride.
After a long, long time Mistress returned wearing wicked smile, holding a bowl. "Follow me". I followed [on my knees] as best as I could – over to the corner of the room. There was a cover over a box-shape – instructing me to remove it which I quickly did. I immediately noticed there was a very shallow bowl sunk into the top of the box. I also noticed that there were ringbolts on each side of the box.
"Ok get into place" – kneeling I moved forward, my wrist cuffs were quickly attached to the ringbolts.
So I was now more or less in position when Mistress Ezada announced – "I realise slave p that possibly I didn't feed you enough yesterday. So I think today is your lucky day. My servant made a bit too much food – consequently there are some leftovers from our meal & even dessert. However it will save a lot of time for you to eat it all together!"
With that Mistress Ezada tilted Her head over the bowl and spat several times into it. Then with a large wooden spoon mixed up the contents holding the bowl She simply emptied the contents of the bowl onto the shallow receptacle.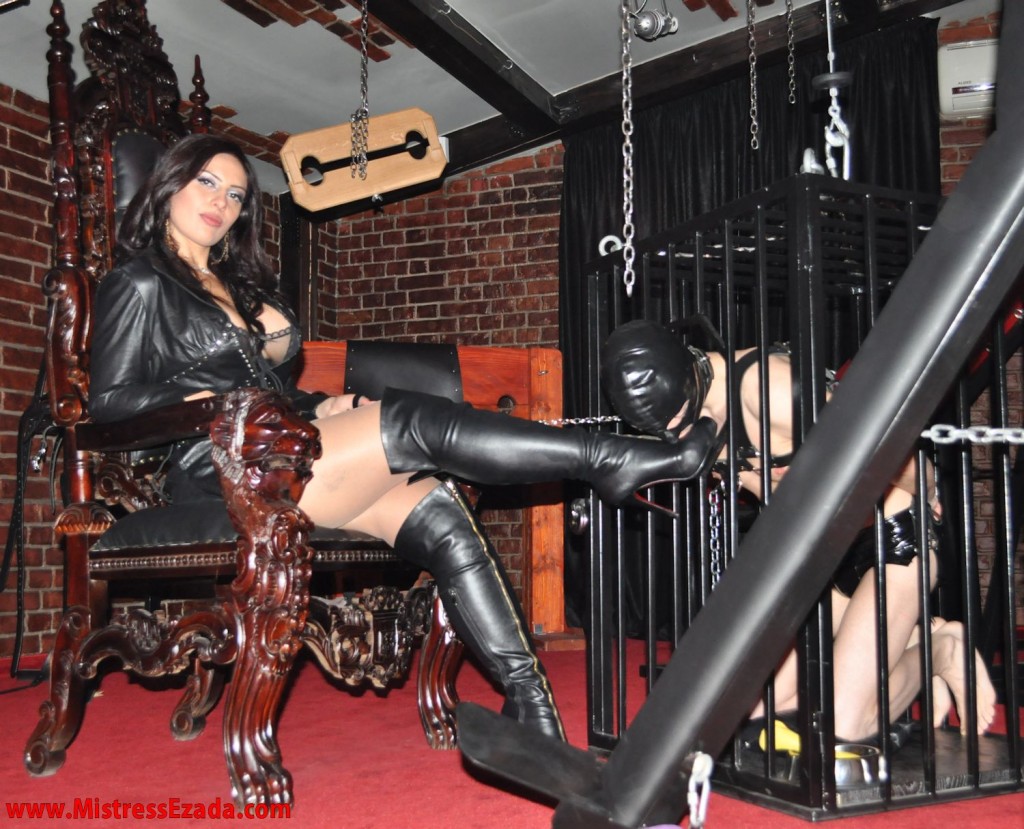 I was then waiting to receive an instruction to EAT. However there was one little surprise Mistress Ezada had in store for me. Look up slave – I did as best I could – I could see some wooden structure above me. I looked more closely & then realized it was a 'Shoulder Yoke' a piece of wood that allowed quite heavy buckets of milk to be carried quite easily. In the middle it had a semicircle cut of it which went around the neck, and the rest of the structure onto one's shoulders.
Mistress Ezada then pulled on one of the chains that was hanging down, and then slowly this thing came down further & further until it was around my neck, and shoulders. As it was coming down I did notice that there were bolt hooks on the underside about ½ way between the neck part & the end of the arms.
Then a simple instruction; "Face into bowl". I complied – my face sinking into my pigswill meal. Then as I couldn't see a thing, I heard a clicking of metal I sensed the bolt-hooks being connected to the ringbolts! Yes definitely as I could only lift my head possibly only a few millimeters. I was however able to breathe but only just.
Then for several seconds I didn't know what to do. Then in a very clear voice Mistress Ezada announced my instruction "EAT"
Although I was extremely hungry I didn't really have much choice. "I expect it will probably take you at least 15 minutes to fully eat all that, however you will not be released until it is completely licked clean. I think it actually took me a lot longer than 15 minutes to totally clean the 'trough'. In fact I had to remain in that position for at least an hour after I had finished. I was therefore extremely grateful to Mistress Ezada's personal servant when I was finally released. He announced Mistress Ezada has retired.
Stay tuned for the 4th part of this story, that will be published next week.