Read the part 1 of this story.
When I eventually received the email from Mistress Ezada formally confirming my acceptance on the programme. I was instructed to fully learn three very important documents, these being: The Servant Rules, The Positions Manual for submissive males, as well as The Importance of Boot Worship in male slavery, as you will be fully tested on these.
I was then given 3 months to put my affairs in order, and to be prepared to be away for a minimum of 3 months but possibly 12. I was overjoyed – it was finally really happening.
One final email I received (only a few days before I was due to leave) from Mistress Ezada to confirm everything was in place, and also reminded me that I had to completely remove all my body hair the day before departure.
Re-education Training Programme When I arrived at the airport, I was met by Mistress Ezada and her personal servant. There was some polite conversation – I was a little nervous.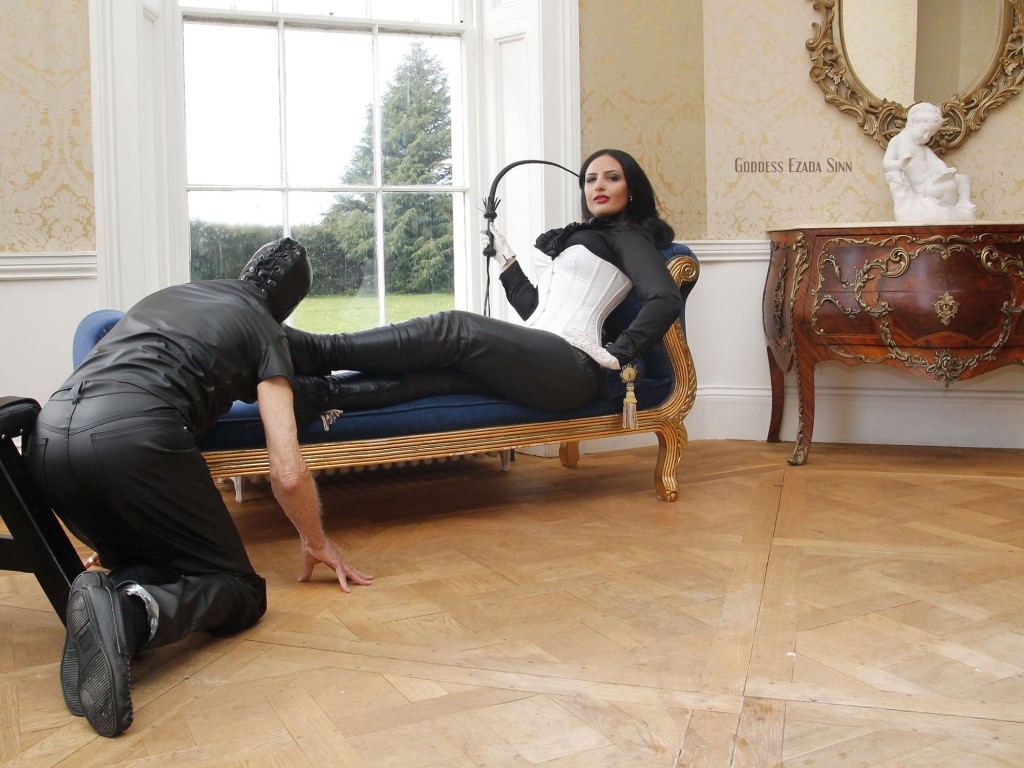 Mistress Ezada handed me an envelope, and simply said READ IT TWICE. It simply stated once we reached her chateau, and inside Her servant would take me to a room where I would begin my Re-Education training. There I would strip naked, and my clothes would be taken & locked away.
Also it mentioned that any instruction from Her servant would be pre-empted by Her Ladyship – Mistress Ezada Sinn Instructs you to do X, Y, or Z. It also detailed that I would receive whipping training every 2nd day for the first two weeks.
However from day # 15 training would be stepped up a notch or two. I would also be moved to collared slave quarters. This would also include a very strict feeding regime. The purpose of this is two-fold 1.) Weight loss program, & 2.) To increase your submissiveness, of course a by-product will be increased humiliation & degradation.
I would be subjected to daily whippings. These would usually carried out at during the following times 08.00-10.00 each day, but of course could in fact happen at any time of the day – as so Mistress Ezada decided.
Caning discipline would be administered on a weekly basis.
The next bit came as a bit of a surprise as there had been no mention of it prior to now. Slave p – what you don't know is that all collared slaves are assigned a 3 digit number, upon graduation. However as it is only I that decide the rules, so I have made an exception for you.
Your number will be 069. So from now on I will address you as either slave 069, or just by your number. Of course I reserve the right if the mood takes Me to call you slave p, or just slave. That said prior to any punishment training it will always be slave-069; or just 069.
Arrival at the Chateau Upon arrival at the chateau, at the beginning of my 3 months Re-Education training. I took a deep breath, and thought, Oh well there's no going back now. I reminded myself that this had been a life-long dream finally becoming a reality.
Once inside Mistress Ezada seemed to disappear, but Her personal servant indicated for me to follow him. He opened what seemed to be a wall panel with some steps leading down. We entered quite a large room, with whips and canes hanging from the walls.
Mistress Ezada instructs you to strip, which I did he collected all my clothes. He seemed to be looking me over, but then I realised that he was checking that I was completely hairless – which of course I was. You are to assume the waiting position, and then left.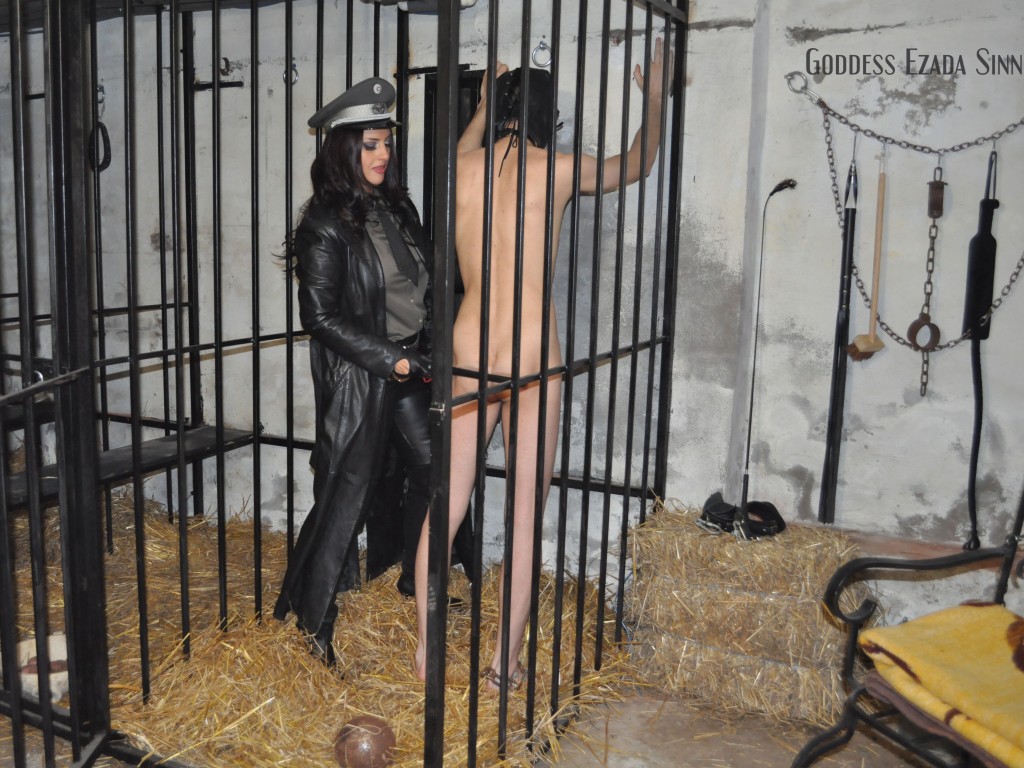 Thinking Mistress Ezada could arrive at any moment, I didn't waste any time getting into the waiting position. I think it must have been around 30 minutes before Mistress Ezada entered the room. Walking around me for a couple of minutes, before instructing me to stand. For a good 5 minutes my body was inspected, to make sure I had in fact removed all body hair. I'd obviously done a good job. "I am satisfied".
I could see that Mistress Ezada was holding a single tail whip in Her hand. Then came the dreaded instruction.
'MENTAL BONDAGE 069'! This usually meant only one thing – a whipping.
I immediately stood to attention, with my hands firmly clamped together on top of head. "REMAIN SILENT 069". I knew exactly what to do; I was not going to fall down at the first hurdle.
Mistress Ezada immediately started whipping the front of my chest. I tried to count in my head but gave up trying after twenty something. Still the lashes kept coming, but I remained silent. "That's quite a good start slave 069". Now for a little reward. Sitting down on a comfortable chair – Mistress Ezada pointed to Her beautiful black boots & simply said, "WORSHIP". I thought to myself, I am so lucky, I have just been whipped by Mistress Ezada, and now I am being allowed to worship her boots.
After quite some time Mistress Ezada raised one foot (the left), and I instinctively held the boot at the top of the heel, and manoeuvred myself into position in order to lick the sole of the boot a lovely smooth leather surface. I did notice that it had some dried mud on it; I just licked very enthusiastically to get it clean. I thought another test. Soon it was onto the 2nd one.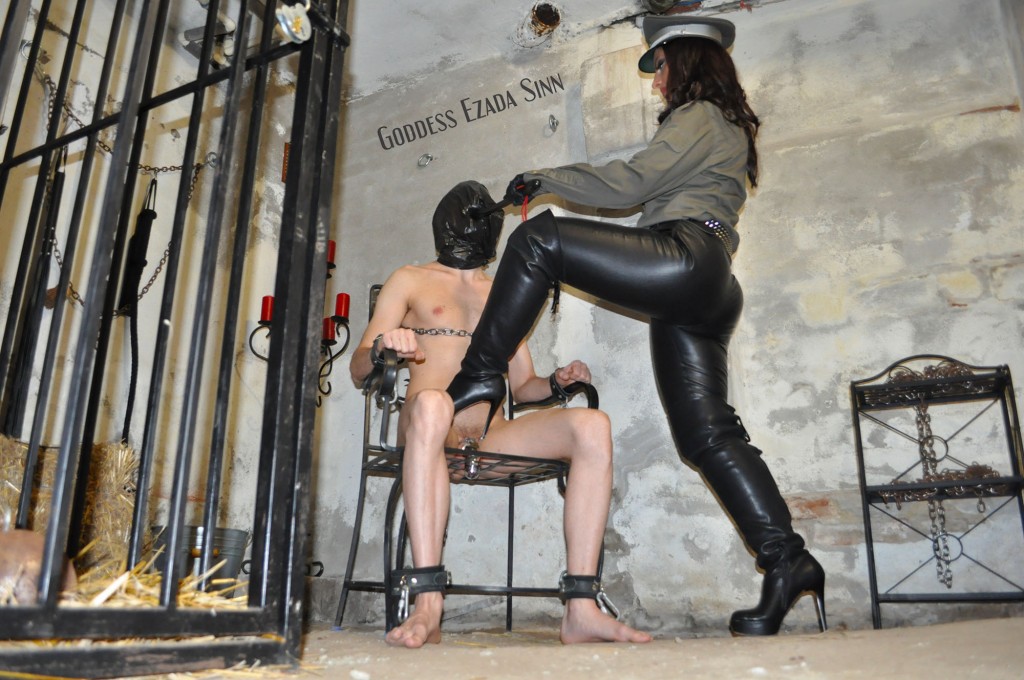 With a click of Mistress Ezada's fingers, and my first reward was at an end. Well 069 I can see how much you enjoyed that. I'm guessing she noticed my straining penis locked in its chastity cage.
Well I have more treats here for you. Pointing to many pairs of leather boots, and shoes. "All these are to be licked clean. After you finish each pair – you must place them onto a piece of absorbent paper – there is a roll here".
However before that I want to do some reading, but of course I need a seat, so will sit on your face. I immediately assumed the correct position. Then Mistress Ezada then sat fully on my face. It happened so quickly I didn't really have time to take a deep breath. I did however take in the wonderful smell of Her leather jodhpurs. I don't know how times I was going to die from suffocation, but then Mistress Ezada lifted up her magnificent posterior just enough to allow me to take a quick intake of breath.
Mistress Ezada continued to sit on my face for over ½ an hour.
Then abruptly lifting off my face, "when I return your task will be checked. If I am pleased you will be fed".
At a rough guess, I'd say it was a couple of hours before Mistress Ezada returned to check on my work. She examined each pair of boots/shoes extremely carefully. "I think you've done just about a decent job.
I will allow you to eat something".
Part 3 will be published next week.