When you visit the Goddess Ezada Sinn's web site, one of the first phrases encountered is, "you will suffer … and I will enjoy it."  It's not a question of when you will be whipped, it's a forgone conclusion that it will just happen.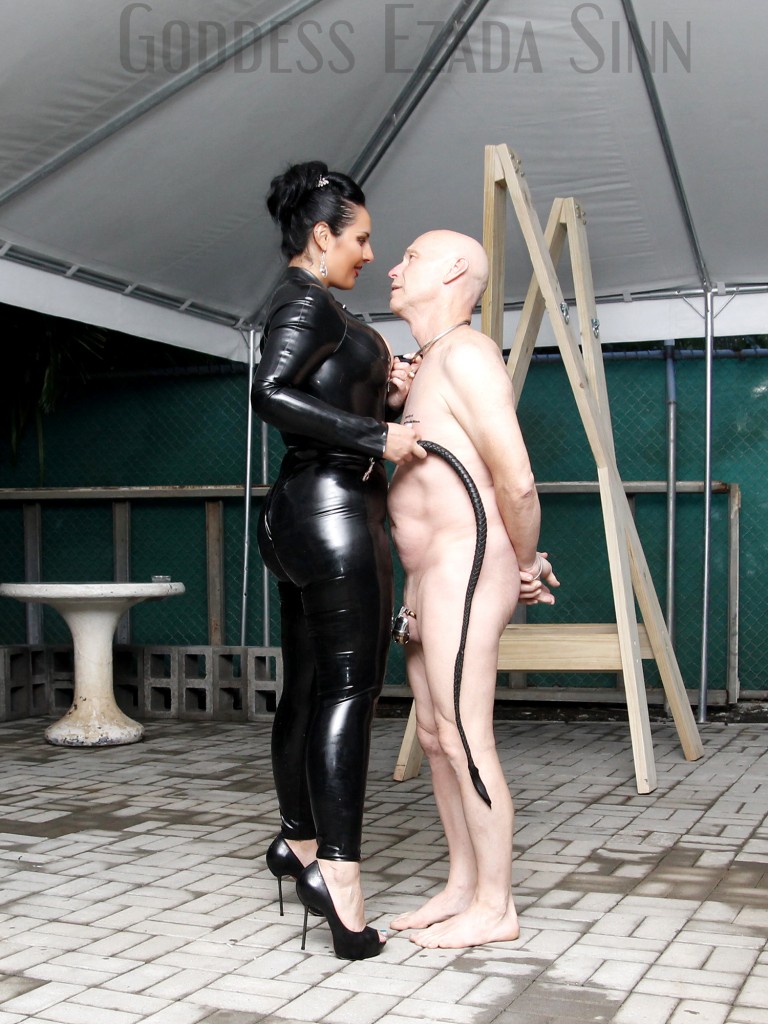 To become Her collared slave there are three fundamentals you must live by.  The first of Her triad is clear and concise, "you will be broken by My whip and must learn to love it's kisses and the pain it brings you, because they are a gift from Me."
Just visit Her clips4sale site http://clips4sale.com/62191 and search on the category "Whipping".  Notice Her plethora of #1 clips from the category.  Buy what interests you, watch and learn.  Maybe you will arrive at the same conclusion Her sit has, "The ever-present threat of Her whip keeps me in a permanent state of fear and awe of Goddess Ezada."
Goddess likes to toy and poke at Her slave via the infraction game.  The coffee's milk is cold, "10 extra whip lashes."   you speak out of turn, "20 extra whip lashes."  you hesitate in executing Her command, "30 extra whip lashes."  Fun and games, just keep on totaling up the final tally.
Yet suddenly the fun and games stop.  Out of nowhere She commands.  "Follow."  "Strip naked."  "Over to the whipping stocks NOW, sit."
i immediately obey yet silently wonder why now, it's 4pm in the afternoon and W/we where just lounging in the warm Caribbean sun.  Nearby the pool is filled with kinky folks basking in the warmth and here i am being cuffed to a torture device and starting to sweat, not from the heat but from fear.  Her primary slave returns and i hear Goddess croon, "Yes I'll use that one."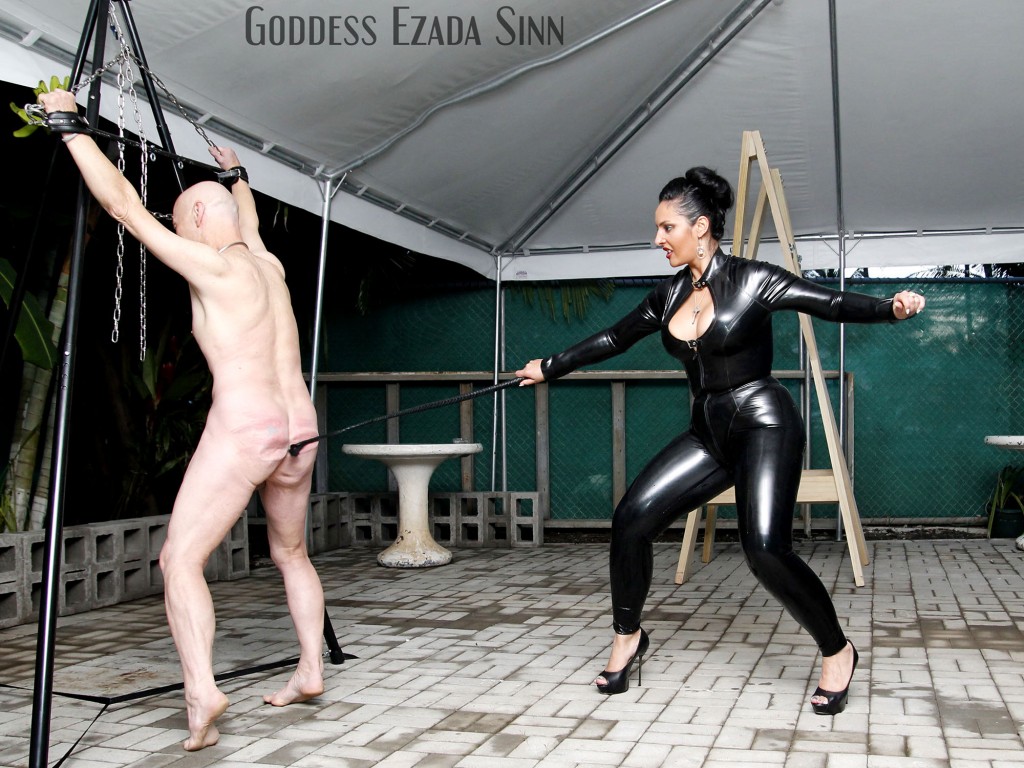 Seconds later Goddess gently brushes my right side with Her long stiletto fingernails.  She breaths wet and heavy into my right ear as She raises the whip up to meet my lips then eyes.  A jet black, 4 foot signal whip with silver tip handle and a tight laden dense dragons tail cracker.  Please note that i am not a male who just enjoys being whipped with any great intensity.
The fear of waiting is soon broken by the snap of a sharp stinging pain laden onto the surface flesh of my ass.  Goddess for some reason does not make me count; She just continues blow after blow.  Ten strikes pass, and there is no sign She will take a break.  my hands cinch down in the cuffs.  At times i stand suspended, standing on one leg only.  Finally a break, maybe at 20 or 25, yet i'm in no way sure.
"Good boy.  Do you love me slave?"  my heads nods the truth.  She retorts back "Then you will learn to love My whippings slave."  The suffering on my ass continues again with no counting, however these whip kisses feel definitely more intense and focused.  The furrows in my temples tell the story.  Quick shorter breathes punctuate the stab of the tip when it strikes.  Twenty-five or 30, again i have no firm idea how many have fallen.
Goddess looks me squarely in the face, "Oh how sweet, small tears.  you will learn to love My whip kisses sit."  She barks at the waiting slave in the corner. "slave, I want pictures of sit's first whipping."  Her labored breathing announces "Oh I love this."  Goddess Ezada steps away and resumes Her pleasure and my pain.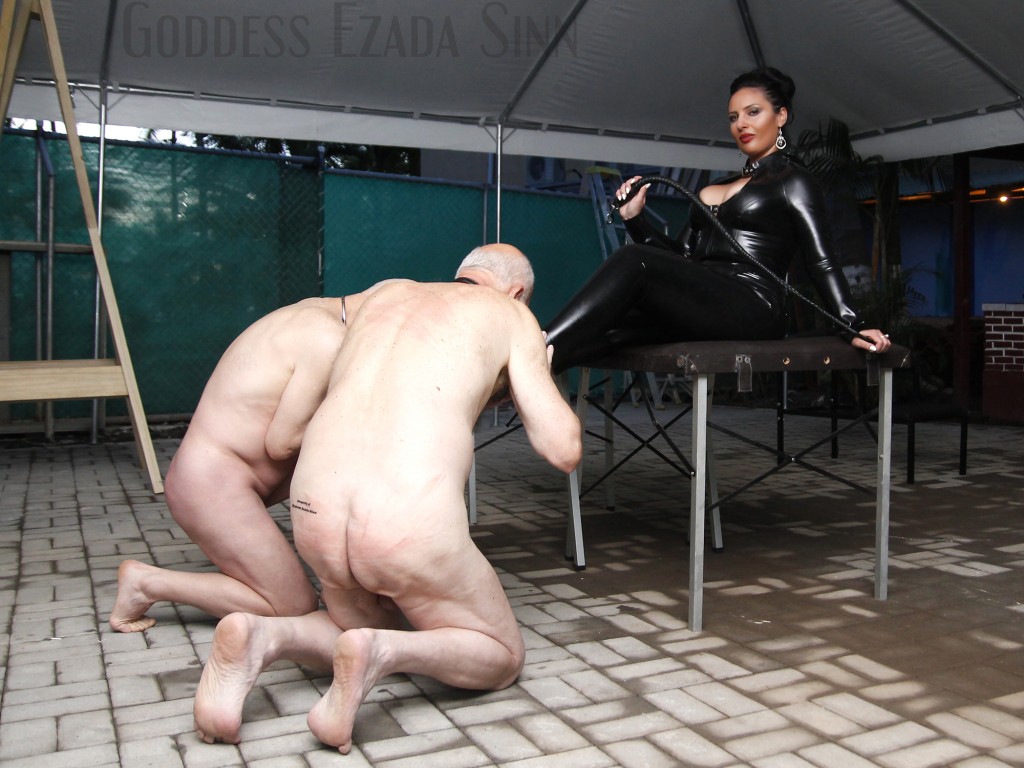 Oh shit this really hurts.  "Repeat the mantra slave," She orders.  "i worship You my Goddess Ezada Sinn.  i belong to You."  Everything swirling around me carries on in a suspended frame of perpetuity.  How long can i stand on my right leg from the blows raining down first on my left ass's skin.  The every increasing repetition of Her mantra actively counts each succeeding lash.  My voice is guttural at best.  i no longer hear Her voice only the crack of the whip followed by its nasty sting.
i continue to spew forth Her mantra even after She has ceased taking Her pleasure.  Her eyes meet mine while i continue to repeat "i worship You my Goddess Ezada Sinn.  i belong to You."  A broad smile emerges across Her face.  The EASIEST whipping of the week has come to a close.  She is pleased and of course that's all that really matters.
The next day, an hour or so after lunch, She gathers all three of Her slaves and hands me two different single tail whips.  We follow Her in solitary line processional order as we transverse the large pool on O/our way to the dungeon space.
"Count."  Thirty lashes on Her primary slave cuffed to the same device as i just yesterday.  he remains stoic throughout yet the flinches in his whole body tell a different story.  Her long standing secondary slave, the French dog, is strapped down over a whipping bench. "Count."  Fifty lashes as he whimpers and moans.  Finally my name is called.  i immediately remove all clothes.
"sit, lean up against the wooden frame.  No ropes, no cuffs, no shackles, you will remain in place by your own freewill."  She shows me a new whip,  "This whip WILL positively bite you slave, you had better breathe."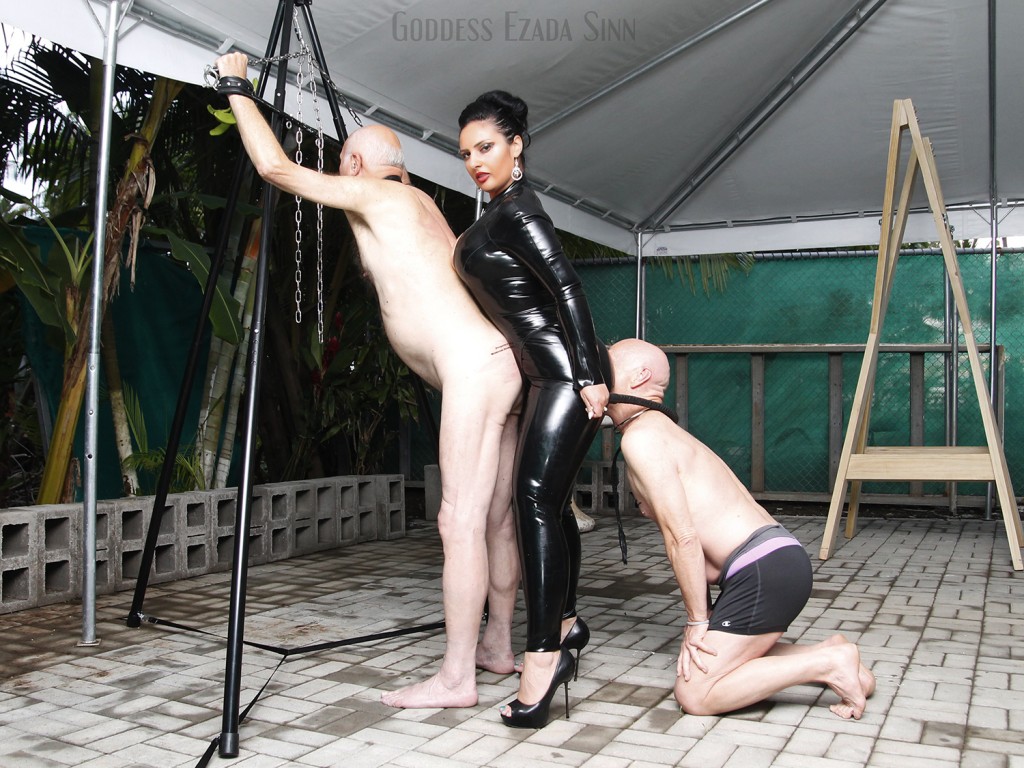 my upper back is now the intended target.  Again, there is no command to count the strokes.  Again, Goddess does not stop at 10 or 20.  i forcefully grasp the wooden frame to broaden the muscles in my back in hopes of deflecting what is a far more intense burning torment than yesterday.
"DON'T move sit," is all i remember.  Oh gosh, i start to apologize but there is not enough time to complete my sentence before She resumes Her fury.  On my own accord i begin to repeat Her mantra, this time in more of a crying rhythm then a speaking tone.  Is it the severity of the new whip or is my upper back more sensitive that my already pummeled ass?
There is just one small break in Her cadence as Goddess steps in front of the double sided whipping frame.  Her eyes appear wide and burning with evil intent and desire.  Her sentences are short, to the point.  "you will learn to love these whippings, sit.  you will take this pain from Me.  you will thank Me for it.  Focus on Me slave.  Focus on ME."
my retort is weak, is feeble, is compact "Yes, Goddess."  She steps behind and begins again.  i sob, i weep, i hang from the wooden as though a puppet does from the strings of its Master.  Goddess stops and gloats at 100 whip lashes?  Her sit can't verify the accuracy of Her count as the flame in my upper back does not allow logical thought.  Her words are true "you will suffer and I will enjoy it."  my encumbered gasps for air slowly find normal.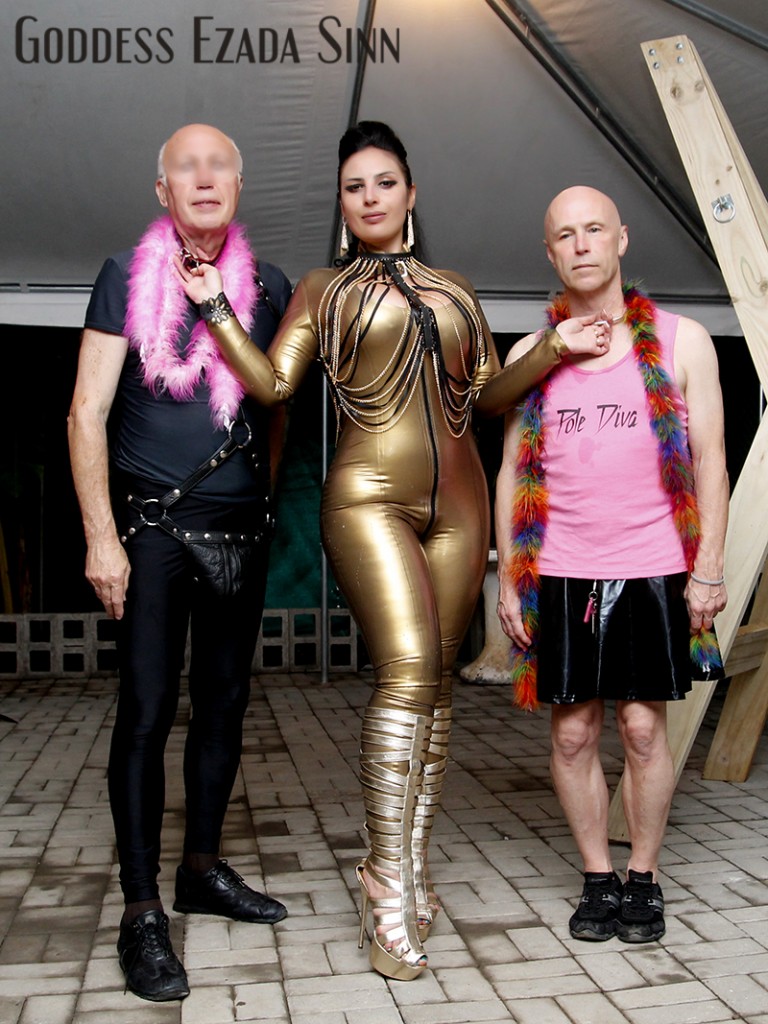 Unbeknownst to me my future plight has not yet ended.  sit knowingly broke a rule that following evening, as i offered a highly interested female resort worker to use a flogger on me during a supervised training session from another Domme in attendance.  i was so happy to see this new Female Domme's eyes light up with joy; however, all night sit lived with this sinking feeling that he had betrayed the spirit of Goddess Ezada's orders.
First, morning's light i firmly planted myself in Wait position outside Her door.  The urgency for sit was to inform Goddess of my disobedience, my failure to obey.  Best She hears if from me instead of gleaning it through some offhanded comment later in the day.  As She sat there in a comfortable chair sipping Her fresh hot coffee with warm milk, i asked for permission to speak.  She was very kind in listening to me.  Goddess was pleased that Her sit had shown concern for a budding Fem Domme, yet She was clear that i had disobeyed the gist of Her orders and poignantly informed me that there would be consequences for my actions.  She did not elude any details on how that punishment might play out.
Is the pain of a punishment whipping different that the agony of a pleasure whipping?  i believe so.  The slave is very aware of his short comings that have elevated the situation to the point that Goddess will discipline you for the infraction.  i broke Her rules; i must suffer Her wrath.
That very evening i was the one commanded to find the hotel staff member in question after Her shift was done, and request that She meet Goddess in the dungeon space.  i was the one who fell to my knees and confessed to both Ladies at once. i was the one again cuffed standing upright.  i was the one about to be punished for my sins.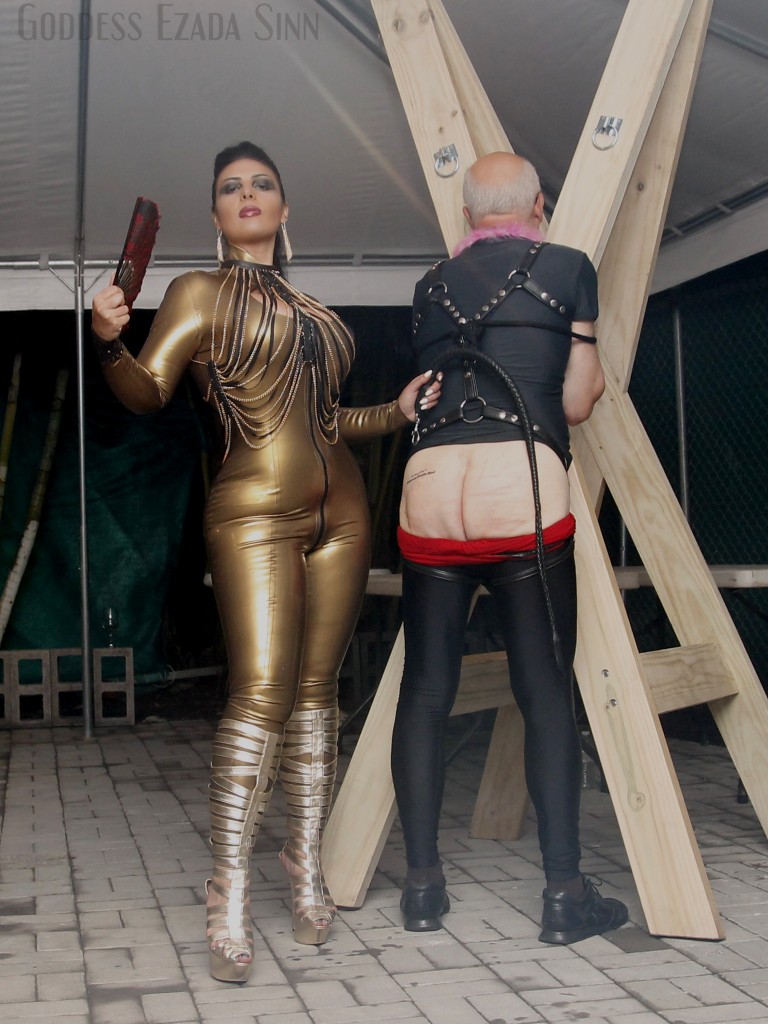 Goddess spent an ample amount of time showing the budding Madame Nicole some whipping tips and tricks.  Then they both turned their attention and direction to my already semi blistered ass cheeks.  Goddess Ezada kept on directing Her to use more force.  Madame Nicole happily complied yet often expressed concern that She was hurting me, whereto Goddess Ezada laughed as She stood back and struck me with even greater veracity.  Twenty to 30 minutes into this round robin of thrashing whips and crops, sit is starting to feel more than uncomfortable, my skin is more than just bruised, my ego is flatly deflated. my ego feels pain.
They both stop, and soon Goddess Ezada squarely looks me in the eyes and asks,  "Are you done slave?"  my response was proper "Please beat me for Your pleasure Goddess Ezada, i deserve punishment for disobeying Your orders."  Goddess steps back behind me while the Madame Nicole faces me from the front, looking compassionately into my eyes.

  Goddess resumes, only this time Her whip kisses do far deeper damage than ever before.  This is punishment, this is uncomfortable, this slave cries openly.  Madame Nicole searches for my soul as my tears form "I'm sorry She's hurting you, I'm so sorry."  The punishment whipping only ends when Goddess Ezada is satisfied.
Weeping.  Beaten.  Broken.  you the slave soon learn this truth; Her whip kisses only end when the Goddess Ezada Sinn is satisfied.