The clips I will post here are some of My favorites, best selling in their respective categories on Clips4Sale. I hope you respect My work and will not pirate them, thus contributing to creating new good quality clips.
The clip for January 2016: "Feeding the cock–hungry bitch" – My all time best selling strap-on clip (to celebrate 10k followers on Twitter)
Using this slave has made Me wet, with sweat, but not only. The sweat under My leather jacket is what I give him to smell, and I can see it makes him horny. So horny that he is only glad when I show what I have under My skirt for him: a big red dildo. Even though his hands are in a uniglove tied up to the ceiling behind his back, he works my dildo with his mouth like a pro; so when I decide to move to his ass it's already properly lubricated. And he hasn't gagged once, even though I pushed his head hard on My dick.
His ass looks just as welcoming for the dildo as his mouth: testing it with the finger shows it's wide and ready. And indeed, I thrust it in quite easily, feeling almost no resistance. In a few seconds I am humping him like a jackhammer, shoving the dildo completely up his ass, and this is not a small one. I couldn't say if his moans were of pleasure or pain. I'm pretty sure he liked it though, that "yes Mistress, fuck me" definitely meant so. As did the fact that he moved in same rhythm with Me, getting My cockdeeper in him. That little whore!
After I had My fun, he had to clean My cock of his ass juices. With his mouth, of course. But it's not a problem, because I clean his mouth after that by spitting in it. I take care of My bitches!
The clip for December 2015: "Mistress Ezada training Her slave how to worship Her gorgeous ass" (to celebrate Romania's National day). This clip is from the "Goddess Worship" category, as it was voted by you, My fans, on Twitter)
In this clip I train My slave how to worship My gorgeous big ass with passion and dedication, like it's the most important thing in the world for him. And indeed, he was so passionate, he got carried away and forgot that he should only use his hands to caress My thighs and ass, not to hold and pull Me. Not even a slap would stop him, only a whip lash on the nipple. This clip is part of a private session with My pet medor, and it was filmed with the camera on a tripod.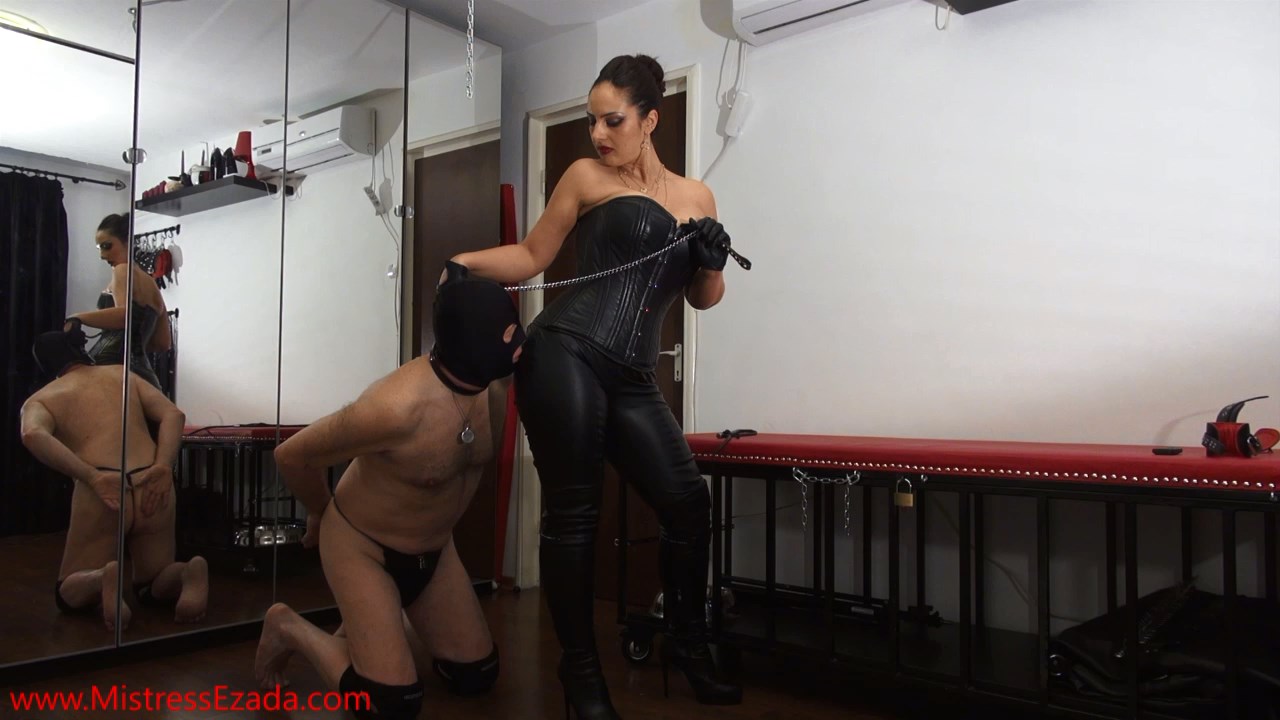 The clip for September 2015: "Mistress Ezada kick training… on balls" (as a "Thank you" for My fans who bought My clips and supported My store in Top 50 C4S. This clip is from the "ballbusting" category, as it was voted by you, My fans, on Twitter and Fetlife)
This slave's got extremely small genitals, he's perfect to train My kick precision. And if I bust them completely, he's not going to miss much, they are too small anyways to get any woman interested in him that way.
I let him lie down comfortably, even gave him a pillow; I wanted him not to move too much, so that I don't miss his minute genitals. And here start kicks, with the toes and the instep, groin stomping, ball crushing and even some punching, ignoring completely his moans of pain. I had a great practice, I need to do this more often!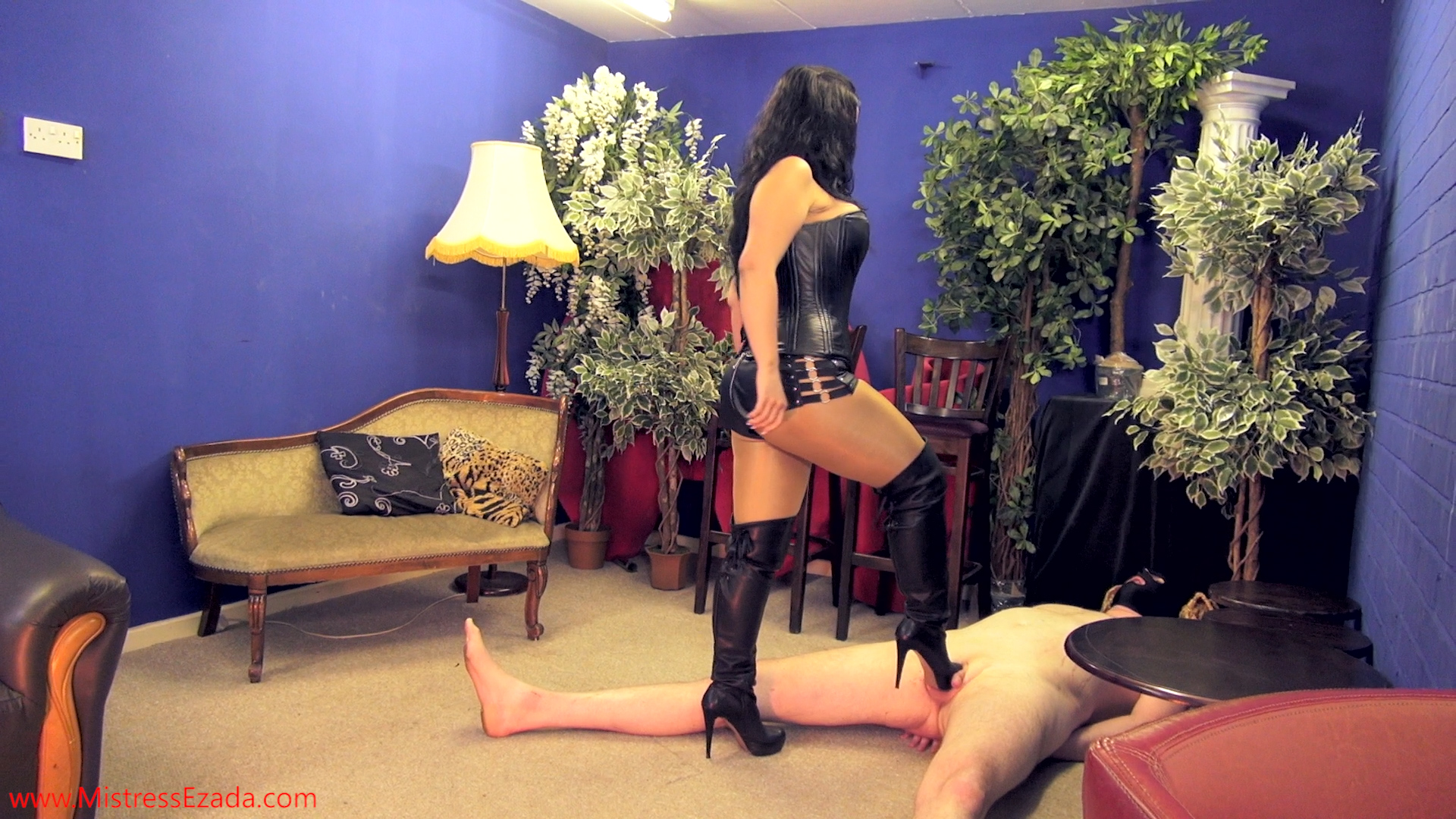 The clip for June 2015: "Speed Milking: 4 ruined orgasms in less than 3 minutes" (to celebrate 40 000 visitors/month on My website)
One obvious effect chastity is the so called "blue balls". During long term chastity, the slave's balls really do become blue, and very big, full of cum. To make sure that the balls don't explode, milkings are necessary once in a while. I don't want him to enjoy the milking too much, so I will do it as quickly as possible. I will extract as much cum as possible in as little time as possible, of course, making sure he feels no pleasure from the process. And since the slave is restrained in a leather strap cage, there's nothing he can do to change anything. In less than a minute the slave has his first ruined orgasm. frustratingly oozing cum on the floor. I will make him cum 4 times in less than 3 minutes, enticing him with the possibility of a real orgasm, but ruining every time, of course. When his cock gets a little too soft, it means he has been milked enough for this time, now I can lock him again and forget about this for a while.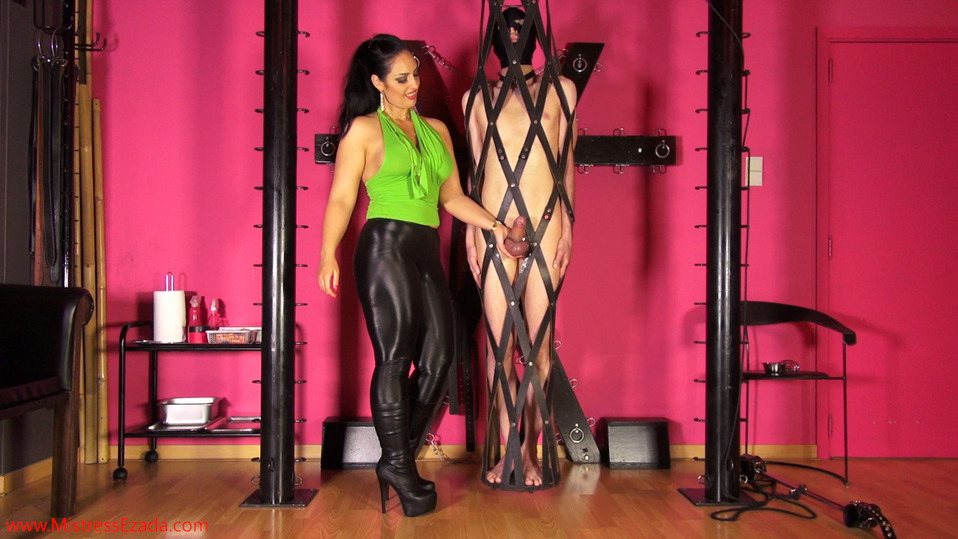 The clip for April 2015: "Extremely muddy boots cleaning" (to celebrate 7000 Twitter followers)
It's the beginning of March, the first sunny day this year, and I decide to take a walk in the forest, accompanied by My slave. But the ground is still very wet and My leather boots got extremely muddy in no time, making it hard for me to walk. Of course I used this occasion to humiliate My slave in the most degrading way: make him clean the dirt off My boots with his tongue, almost naked in the still cold forest! My boots were so muddy, that he couldn't clean them properly, even though I spit in his mouth several times, to clean it, so I left him there to freeze, tethered to a tree. It's fantastic to see My slave's reactions in this clip, as he was not expecting to be humiliated like this, since he is just a whipping boy.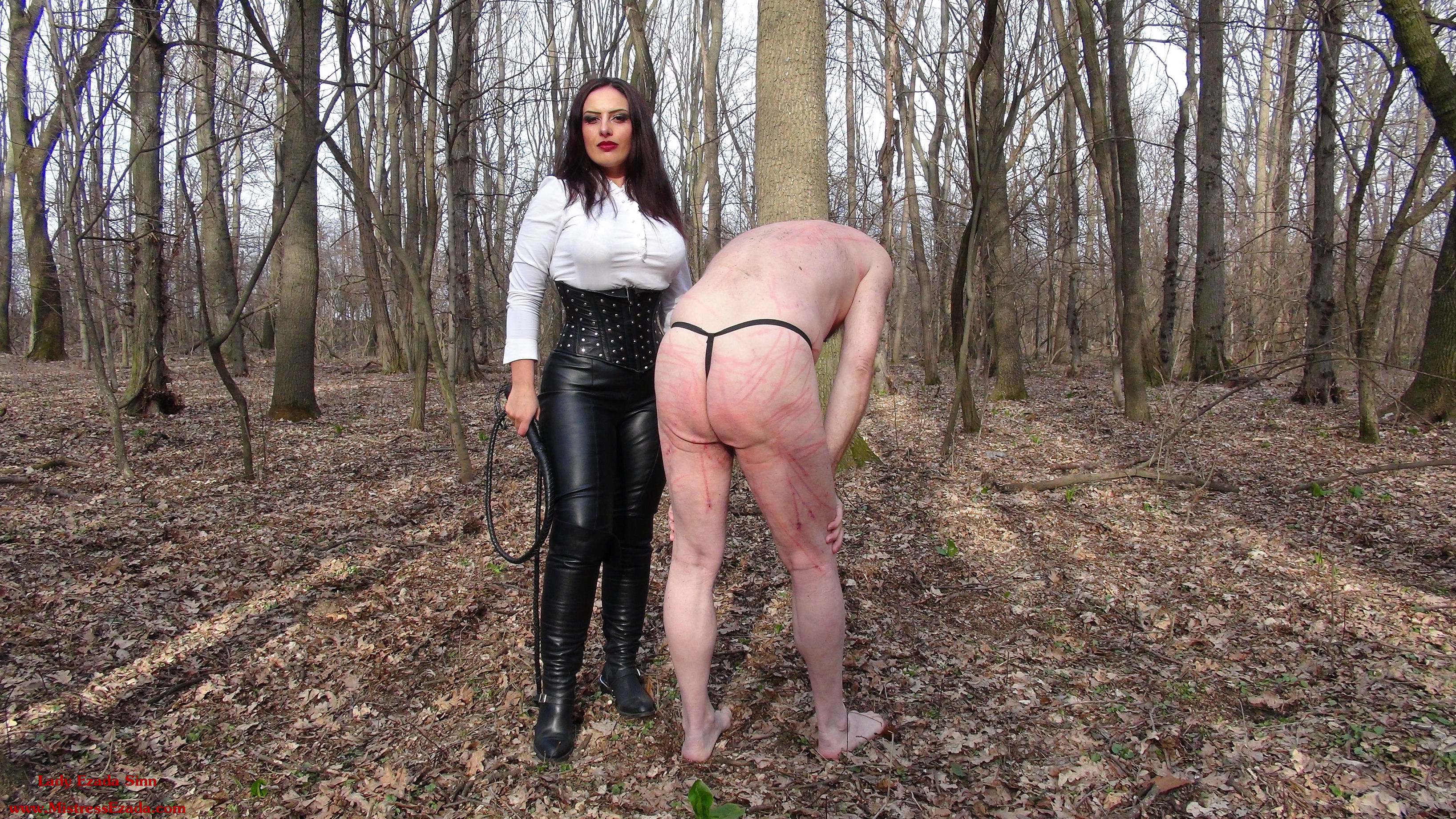 The clip for January 2015: "Ruin your orgasm for Me" (to celebrate 6000 Twitter followers)
As I requested, you have been in mental chastity and have not had a release for a while already. Now you are eager to have a release and, seeing Me in this short red latex dress, so tight on My curvy body, your prick becomes hard instantly. But you're not allowed to jerk off just like you use to, you will do it exactly as I tell you to. It will not be too difficult, you can't resist when you see Me like this, you will do everything I tell you to, even refrain from touching yourself after you haven't had a release in such a long time.<br>You will jerk off in the rhythm I instruct you to, and you will obey Me like a puppet, totally mesmerized by My ultra-sensual body. I told you I will give you a release, but a release doesn't necessarily mean pleasure. So when I finish counting down from 10 you have to take away your hands from your prick and cum, ruining your orgasm for Me. I know it's hard to give up the supreme pleasure of orgasm, but you don't want to disappoint Me; after all, you know you don't deserve to feel this supreme climax.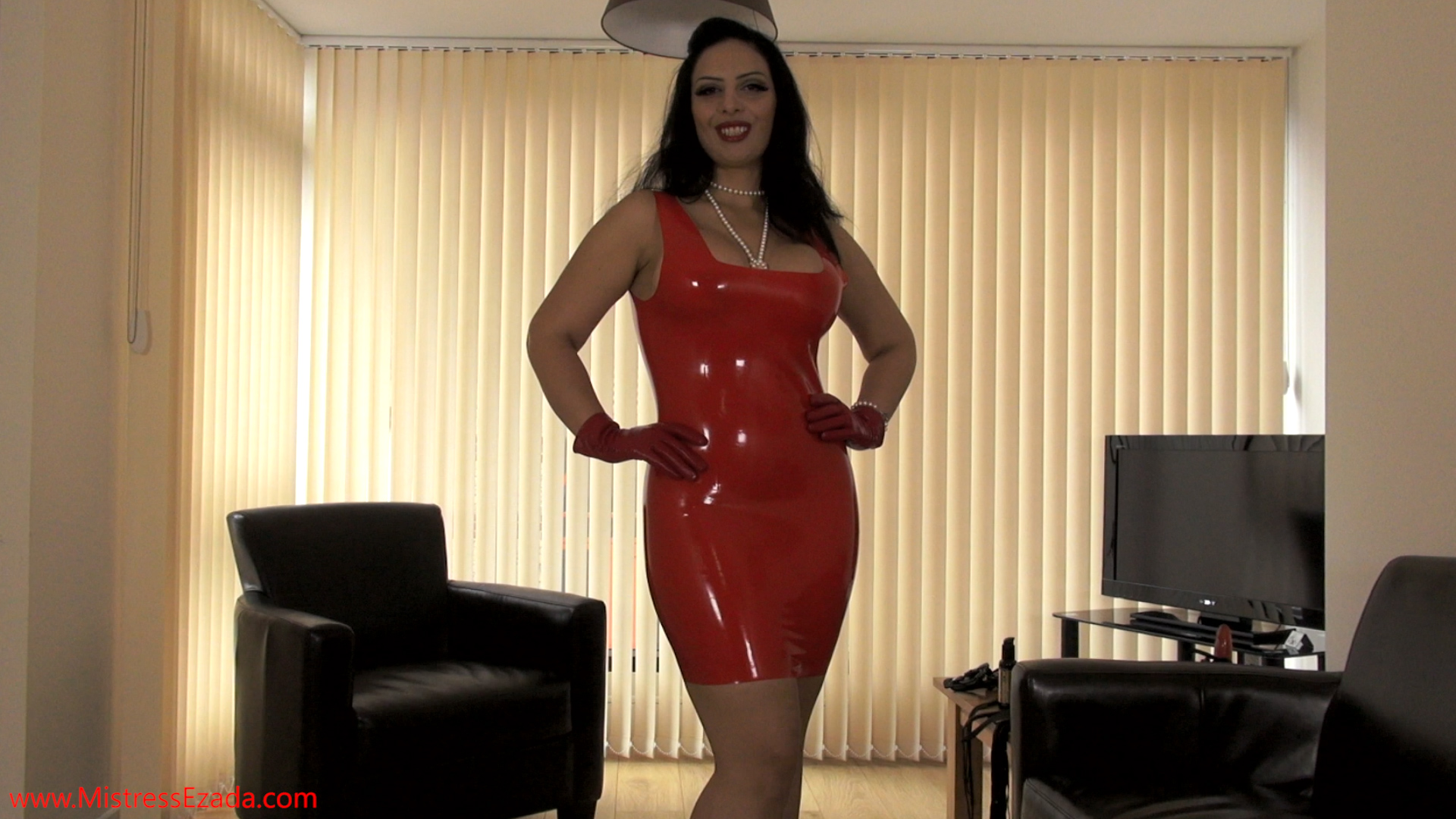 you can find more videos on My clips4sale store: Mistress Ezada Sinn
New clips featuring Me on KinkyMistresses.com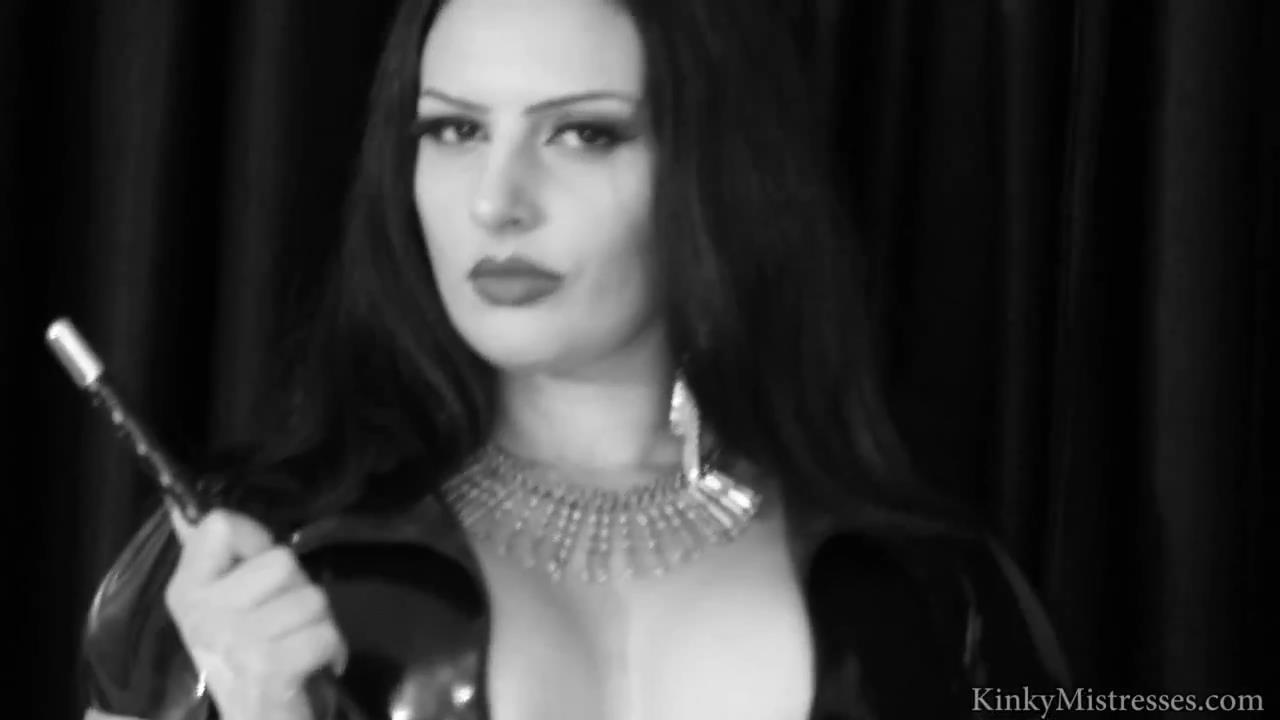 Bitten by My snake whip: Mistress Ezada brutally whipping Her slave in the cellar –
I recently received My new custom made snake whip, I requested it red – My favorite color. I am dressed completely in black today and I matched My shoes with the whip. All I need now is to match My slave to My shoes, so I will make his back red. With the new whip, of course.
He is chained in the cellar and knows what's coming to him: a painful whipping. He can not avoid it; if he wants to be My slave, he has to get accustomed to wearing the marks of My whip constantly, he will be literally branded by My whip. Premium quality and easy to control, My new snake whip bites into the skin of the slave with almost no effort from My side. The whip cracks, accompanied by the slave's cries of agony, are a music for My ears. I only feel pleased when the back of My slave is full of deep red marks, that will stay on for weeks.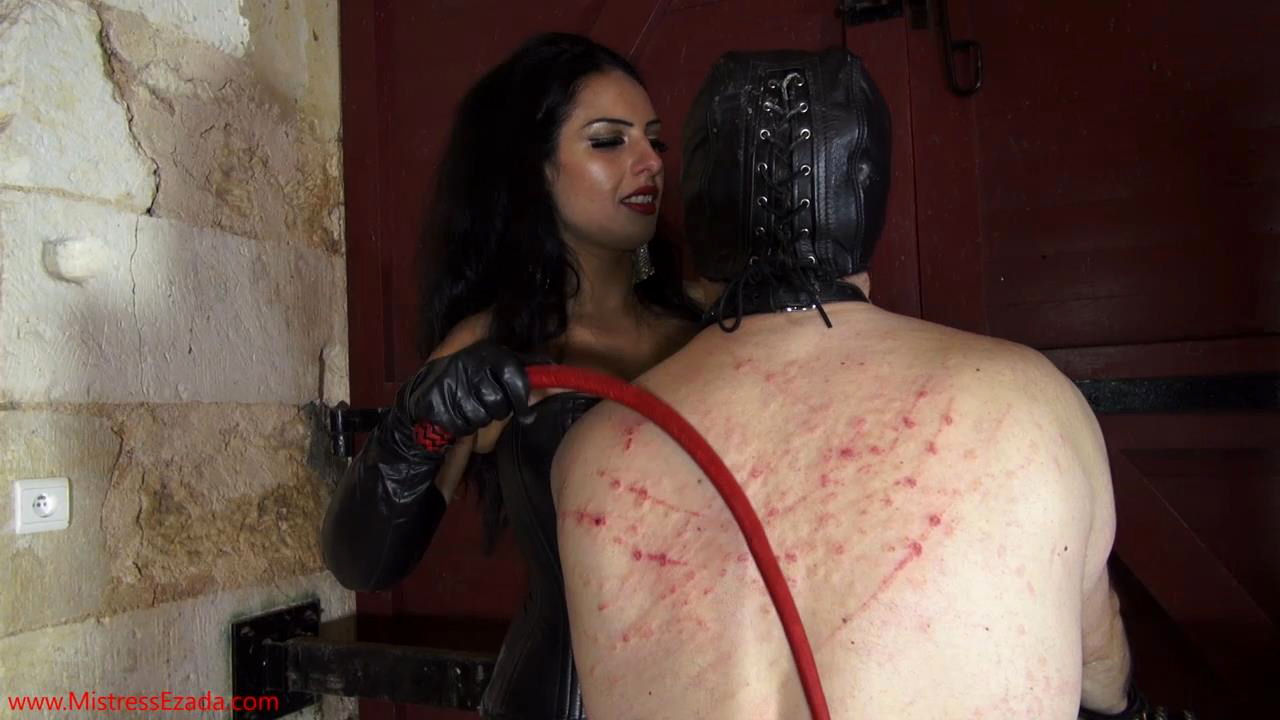 300 – Femme Fatale Films – Mistress in leather, boots worship, whipping, face slapping, nipples torture
Mistress Ezada Sinn kicks off with a sentence of 300 strokes for the unfortunate slave. 300 proves not to be enough to satisfy Mistress Ezada, so the slave feels the full force of her wrath for considerably more than that.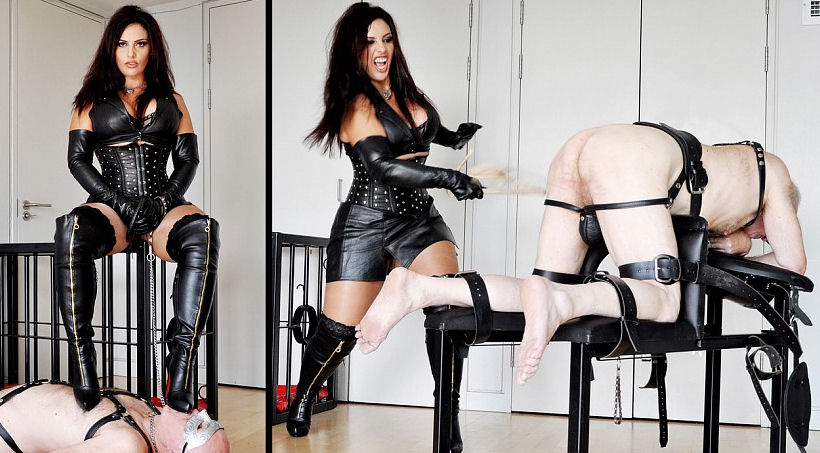 Speaking My language – Femme Fatale Films – Mistress in latex, spitting, face slapping, whipping, nipples torture, CBT
This slave is given an incentive to learn a new language and learn it quickly under the uncompromising instruction of Mistress Ezada Sinn.
Humiliation in the dining room – OWK – Force feeding, feeding from hand and feeding from ground, face slapping, hot wax, CBT, trampling, foot worship
This film was shoot back in 2009 for OWK. The DVD is available for purchase directly from Me.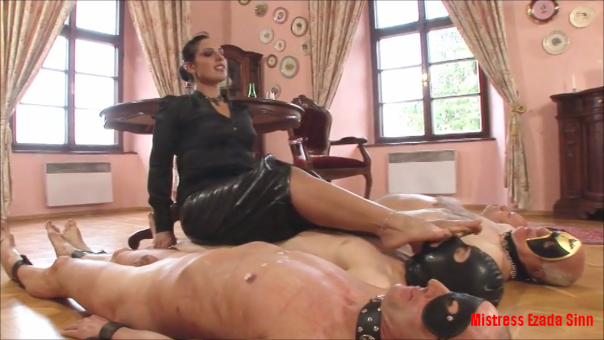 Mistress Ezada in the OWK I+II – OWK – CP, whipping, caning, kicking, slapping, foot worship, bottom worship, clamps, CBT, caging
This film was shoot back in 2009 for OWK. The DVD is available for purchase directly from Me.