I had so much looked forward to My Femdom Summer Camp in Portugal last September but My expectations have even been far exceeded. It was what I had dreamt it to be. True Femdom Lifestyle for a whole week. It was all about us in that wonderful villa, it was about the Ladies, not about them, the male slaves. We were served, pampered, entertained. We used them, We punished them, We had the best of fun. It was a week to remember. For Us as written here and for the males as well as you can read here.
Femdom Summer Camp was such a great experience for Mistress Evilyne, Lilse von Hitte and Myself I am so delighted that there will be another Femdom Camp soon. Femdom Winter Camp will take place in a wonderful villa in Southern Thailand between Feb. 20th and  27th 2015 and it will hosted by My dear friend Ms. Evilyne. Read all about the details here.
Of course I will be there and I will be served by two slaves. My personal slave and another slave will have the privilege to attend. That second place is still waiting for a worthwile candidate. Will you be the one? If you want to apply it is of paramount importance that you really understand the idea of the event (it's not for play, it is total immersion into a world of Femdom Supremacy). It's a plus if you are willing to be a model in My pictures/clips (with mask). I want My plane ticket and participation tax paid (650 euros for plane ticket and 850 euros for accommodation). A deposit of 20% has to be paid upon admission.
For those who can't serve Me for the whole week, there is the possibility to serve Me for a shorter term (minimum 48 hours). Participation tax is 250 euro/24 hours.
Dare to join Me for a lifetime experience? Contact Me.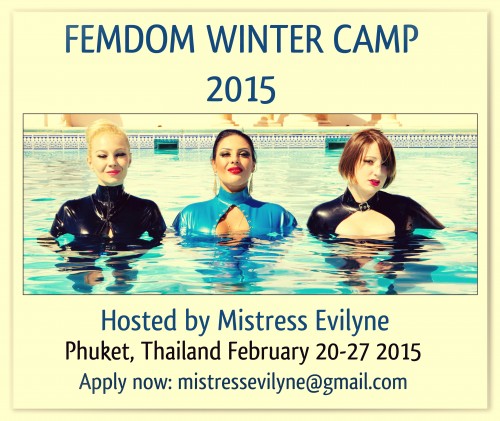 Images from Femdom Summer Camp 2014, Portugal